Rock Stars with Their Moms – Photo Gallery
Fame, fortune and passionate fans – it's all part of the package when it comes to the swanky lifestyles of rock's biggest stars. But even for rock stars, once you get beyond the backstage parties and hotel shenanigans, nothing compares to the unconditional love and support of a mother, right?
In general, moms tend to bring out the best in their offspring and rock stars are no different, at least if these pictures tell us anything. From Gene Simmons of Kiss to Elton John and Stevie Nicks, these photos of rock stars with their moms are truly endearing and show off a much different side of the musicians with the original leading ladies in their lives.
So moms, we salute you! Enjoy these photos of rock stars with their Moms throughout the years.
View Photos of Rock Stars With Their Moms:
Alice Cooper and his proud momma back in 2003 when she joined him as he received his star on the famed Hollywood Walk of Fame in Hollywood, Calif.
Elton John's mother supporting him at one of his many charity events — not hard to see where he got his smile.
Gene Simmons' mom has become a fan favorite in the music world. Fans got to know a lot about her on the Kiss bassist's reality show 'Gene Simmons Family Jewels,' although she never disclosed if outrageously long tongues run in their family tree.
Bon Jovi guitarist Richie Sambora and his mom share a high five after the unveiling of a street named after her all-star son in Woodbridge N.J. Now we see where Richie gets all his stage moves.

Bruce Springsteen is on the receiving end of a maternal sandwich in this photo. He's surrounded by his mom (third from the left) and two of his aunts at an awards show in 2010. It's good to be the Boss!
Here's Stevie Nicks showing her mom some love back in 1978 at the Grammy Awards. It was a good night all around too as Fleetwood Mac scored the 'Album of the Year' award for 'Rumours.'
Sammy Hagar chilling with his brother and mother — the only thing missing at this family affair is a round of Waboritas! If the hair didn't give it a way, this shot of Jon Bon Jovi and his mom is from the 1991 Grammy Awards. She looks like one proud mamacita!
Journey guitarist Neal Schon shows off his mom at the 2011 Billboard Touring Awards.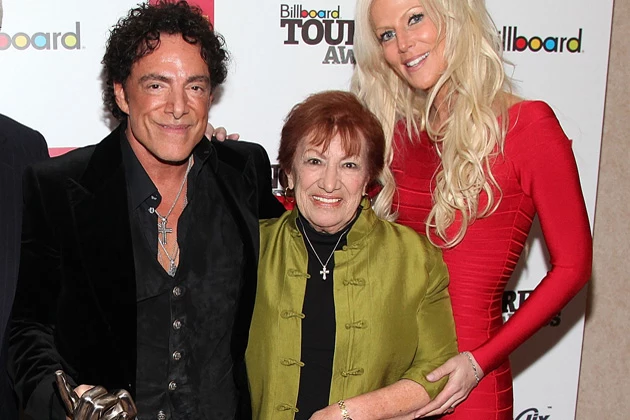 Best of Ultimate Classic Rock