26 Years Ago: Pink Floyd Finalizes Breakup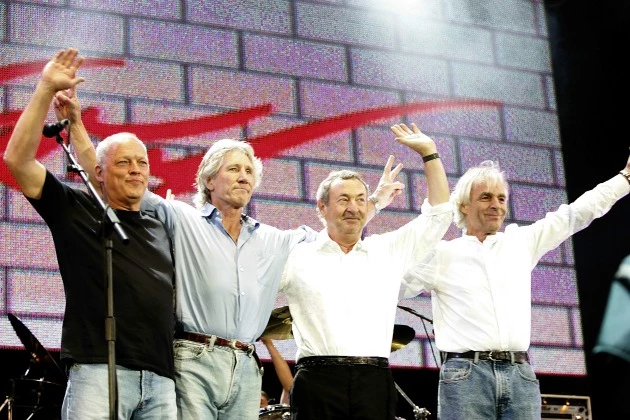 After years of bitter recrimination and mudslinging in the press, Pink Floyd buried the hatchet 26 years ago this weekend, celebrating peace on Earth and goodwill to men by legally finalizing one of the most strongly contested breakups in rock 'n' roll history.
Pink Floyd Online sets the specific date at Dec. 23, 1987, citing an agreement between quarreling ex-bandmates David Gilmour and Roger Waters that enabled the band to carry on without Waters — but stipulated that he'd need to receive royalties for the use of any images created during his tenure, which ended when he left the group in December 1985.
As Waters famously put it, Pink Floyd was "a spent force creatively" after 1983's 'The Final Cut,' but his former partners clearly disagreed, soldiering on without him for 1987's massively successful 'A Momentary Lapse of Reason' album, as well as a subsequent tour. Waters eventually pursued legal avenues while making his case in the court of public opinion, but neither outcome could have been entirely satisfactory for him; 'Lapse' far outsold his own '87 release, 'Radio K.A.O.S.,' and while he did wind up getting what he referred to as "a slice" of the band's ongoing income, they proved rather decisively that they could keep going without him.
Tempers cooled in subsequent years, of course, and while Pink Floyd entered a state of seemingly permanent creative limbo following the release of 'The Division Bell' in 1994, relations between Waters and the rest of the band improved to the point that he and Gilmour actually started to seem friendly — and then, in 2005, fans received a surprisingly sweet coda to the story in the form of their Live 8 reunion set. Although it didn't lead to any new Floyd tunes — and, given that Gilmour has mostly retired and keyboard player Richard Wright passed away in 2008, there probably won't ever be any — seeing the former litigants smiling on stage was its own reward.
Still, as unlikely as the prospect of another Pink Floyd record might seem today, the band's surviving members will probably never stop having to answer questions about their time in the band — witness this '60 Minutes' interview with Waters, recorded earlier this year, in which he (somewhat unwillingly) discusses his reasons for leaving the group all those years ago.