UPDATE: Paul Mccartney Somewhat Clarifies Mysterious Five-Second Clip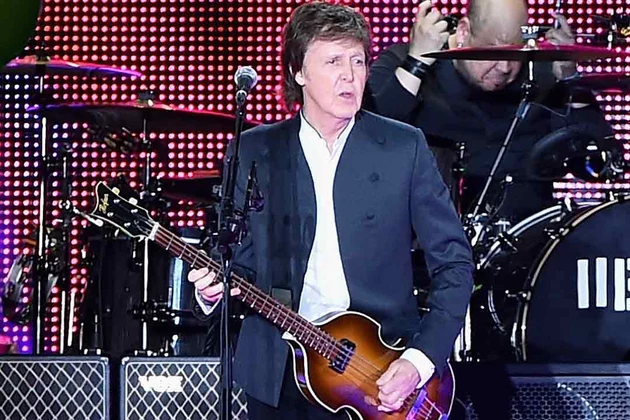 Paul McCartney just posted a five-second audio clip on Twitter and Facebook. And we're not gonna lie to you. We have no clue what's going on here. We have some guesses, all of which are probably wrong. We can also just throw some random things out there, which would certainly be even more wrong.
Here, take a listen for yourself and see if you can figure out what's going on.
#PaulMcCartney pic.twitter.com/EWg98JOWov

— Paul McCartney (@PaulMcCartney) March 29, 2016
Baffling, no? We slowed it down. We played it backward. And we've come up empty all around. We simply have no idea what's going on here. Frankly, it sounds like that time we accidentally dropped a sandwich on the record player when we were playing an Elton John album. But with McCartney. And less mayonnaise.
UPDATE: McCartney has posted a follow-up to the clip with another five-second clip, and this one includes song titles of various solo (and Wings) hits over the years, like "Silly Love Songs," "My Love" and "With a Little Luck." While these could be hints of the set list for his new tour, we're thinking it's most likely the track listing for a new career-spanning compilation, since one of the titles reads "Say Say Say (2015 Remix)," which was included on last year's Pipes of Peace reissue. A handful of deep cuts ("Little Willow" and "Appreciate," among them) are also listed in the clip. We've included a complete list of the nearly 70 songs found in the video below. It still doesn't clear up things much, but it's a little less confusing now.
That's almost definitely McCartney we hear speeding by. But we can't pick out any of his old songs here. Or much of anything, for that matter. Is this his way of announcing a new album? Possibly. Is there another batch of remasters coming in his reissue series? Doubtful. Those usually arrive in the fall. Is it somehow promoting his upcoming tour? Maybe, but that sure is a messed-up way to promote a tour.
Maybe it's just an early McCartney April Fools joke. He always seemed like the goofiest Beatle, so we wouldn't put it past him. Or maybe this is just his strategy to get back the rights to all of his band's old songs that his former friend bought out from under him in the '80s. It couldn't have anything to do with his alleged role in the new Pirates of the Caribbean movie, could it?
Again, we have no clue what's going on here. Feel free to let us know what you think. Your guess is as good as ours at this point.
Songs Listed in Paul McCartney's Five-Second Clip
"Maybe I'm Amazed"
"Heart Of The Country"
"Jet"
"Warm And Beautiful"
"Listen To What The Man Said"
"Dear Boy"
"Silly Love Songs"
"The Song We Were Singing"
"Uncle Albert Admiral Halsey"
"Early Days"
"Big Barn Bed"
"Another Day"
"Flaming Pie"
"Jenny Wren"
"Too Many People"
"Let Me Roll It"
"New"
"Live And Let Die"
"English Tea"
"Mull Of Kintyre"
"Save Us"
"My Love"
"Bip Bop"
"Let'Em In"
"1985"
"Calico Skies"
"Hi Hi Hi"
"Waterfalls"
"Band On The Run"
"Appreciate"
"Sing The Changes"
"Arrow Through Me"
"Every Night"
"Junior's Farm"
"Mrs Vandebildt"
"Say Say Say"
"My Valentine"
"Pipes Of Peace"
"The World Tonight"
"Souvenir"
"Dance Tonight"
"Ebony And Ivory"
"Fine Line"
"Here Today"
"Press"
"Wanderlust"
"Winedark Open Sea"
"Beautiful Night"
"Girl Friend"
"Queenie Eye"
"We All Stand Together"
"Coming Up"
"Too Much Rain"
"Good Times Coming/Feel The Sun"
"Goodnight Tonight"
"Baby's Request"
"With A Little Luck"
"Little Willow"
"Only Mama Knows"
"Don't Let It Bring You Down"
"The Back Seat of My Car"
"Nor More Lonely Nights"
"Great Day"
"Venus And Mars"
"Rock Show"
"Temporary Secretary"
"Hope For The Future"
"Junk"
Paul McCartney Albums Ranked Worst to Best
Best of Ultimate Classic Rock