Neil Young Could Have Jammed With the Surviving Members of Nirvana for 'Sound City'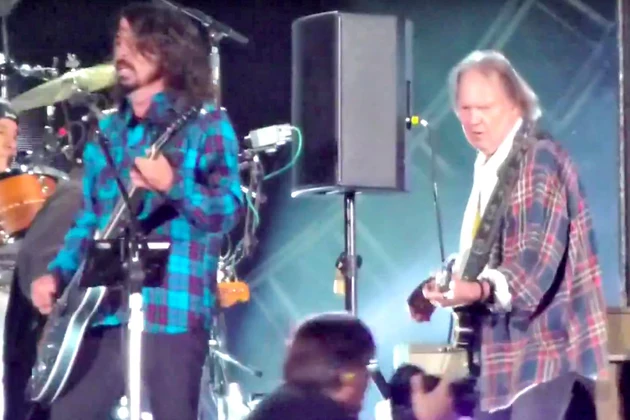 One of the cooler moments from Dave Grohl's Sound City documentary saw him joining fellow Nirvana survivor Krist Novoselic for a notable jam session with Paul McCartney. According to producer Butch Vig, Grohl wanted to do something similar with Neil Young.
Vig shared this behind-the-scenes story during a recent interview with the Daily Beast, lamenting, "The only project I'm bummed didn't happen was when we were doing Sound City, Dave Grohl was inviting people in to jam in the studio and we had set up a session for Krist and Dave from Nirvana to play with Neil Young. It would have been f—ing awesome."
Young was one of a handful of elder rock statesmen who were energized by the grunge revolution led by Nirvana in the early '90s, which dovetailed with the feedback-drenched return to form he enjoyed with 1990's Ragged Glory. Young later eulogized fallen Nirvana frontman Kurt Cobain on 1994's Sleeps With Angels LP and worked with the group's contemporaries in Pearl Jam on his next release, Mirror Ball.
Given all that, and Young's tendency to turn on a dime, Vig is sure the jam would have led to something bigger — if only scheduling conflicts hadn't gotten in the way. "I know if Neil Young played with them he'd go, oh, let's go on tour and play some shows together! It would be like Crazy Horse on steroids," he added. "But then it didn't happen. Neil Young had a book coming out so he was on a book tour, and Dave had to go interview him somewhere else. It's a bummer, man."
Neil Young Albums Ranked Worst to Best
Best of Ultimate Classic Rock