Neil Young Thinks There's 'Every Chance' of a CSNY Reunion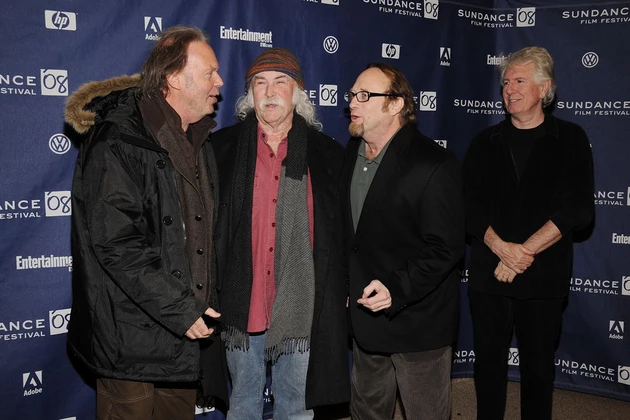 Crosby, Stills, Nash & Young have nothing if not a volatile history, and the group's on-again, off-again collaboration has lately seemed to be permanently on the outs. But according to Neil Young, there's still "every chance" the foursome could reunite at some point.
Young, whose prolific solo career has often been a sticking point when it comes to getting CSNY back together, met with Mojo to discuss his new Peace Trail LP, and made it clear that despite his own ongoing pursuits — and the latest round of public squabbling between members of the quartet — he still sees a creative future for them.
"I think CSNY has every chance of getting together again. I'm not against it," said Young. "There's been a lot of bad things happen among us, and a lot of things have to be settled. But that's what brothers and families are all about. We'll see what happens. I'm open. I don't think I'm a major obstacle."
Young's remarks signal a thaw in the rift that developed between himself and David Crosby several years ago, after Crosby publicly maligned Young's relationship with a new girlfriend following his split with wife Pegi. "It was fixable," shrugged Young in 2014. "It didn't get fixed."
Even if Crosby and Young manage to mend fences, there's still the matter of the recent war of words between Crosby and Graham Nash — although Nash has also signaled a willingness to let bygones be bygones. As Nash put it last August, "There have been times when I've been so pissed at us all for wasting time and not getting on with the job that I wouldn't talk to any of them. But if Crosby came and played me four songs that knocked me on my ass, what the f— am I supposed to do as a musician, no matter how pissed we are at each other?"
See Crosby, Stills, Nash & Young and Other Rockers in the Top 100 Albums of the '70s
Best of Ultimate Classic Rock