Motley Crue Line of Sex Toys to Debut This Fall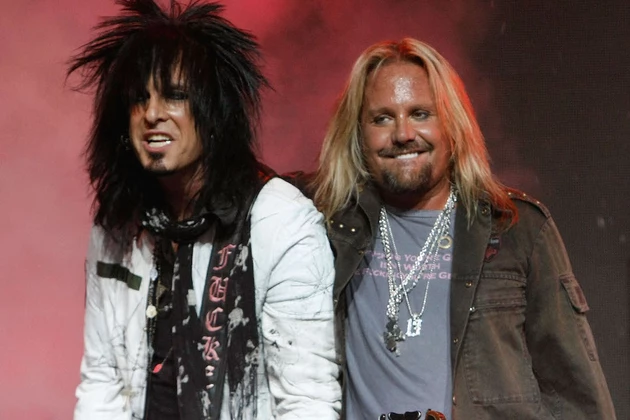 Mötley Crüe are no longer making music together, but they're still making money — and they'll grow their portfolio, so to speak, with the arrival of an official line of sex toys later this year.
The manufacturer, Lovehoney ("the sexual happiness people"), has announced a September debut for their Official Mötley Crüe Collection, which includes "eight powerful mini and midi-sized vibrators" that come covered in album artwork from Crüe classics such as Girls, Girls, Girls, Shout at the Devil and Too Fast for Love. No price point or specific release date is mentioned in the press release, but the company is clearly (ahem) excited.
"We're thrilled to be able to add some true rock icons to our catalog with the Official Mötley Crüe Collection," said Lovehoney sales manager Sabrina Earnshaw. "The eight eye-catching vibes capture the style and sex appeal of the band perfectly and deliver the power and pleasure you'd expect from 'the world's most notorious rock band.'"
And while Crüe fans are obviously the chief demographic for the collection, Earnshaw is confident the company's commitment to quality makes it a solid choice for pleasure seekers of all musical persuasions. "The toys are targeted predominantly at rock fans," she added, "but even those unfamiliar with the band are bound to enjoy them just as much thanks to the high quality, intense power and gorgeous designs."
The band licensed the deal through Global Merchandising Services, where exec Barry Drinkwater feels like the collection will only enhance the band's connection with longtime listeners. "Global is excited to be rockin' our clientele in such a fast growing industry," he's quoted as saying. "We like nothing better than making the fans happy … and we're thrilled to be partnering with Lovehoney."
Lovehoney's Official Mötley Crüe Collection continues the company's fruitful association with umlaut-sporting veteran rock acts: last year, they launched a line of Motörhead vibrators promising "the loudest buzz in the world."
Motley Crue Albums Ranked Worst to Best
Best of Ultimate Classic Rock