Led Zeppelin Lawyers Blast 'Baseless' Claim in 'Stairway to Heaven' Lawsuit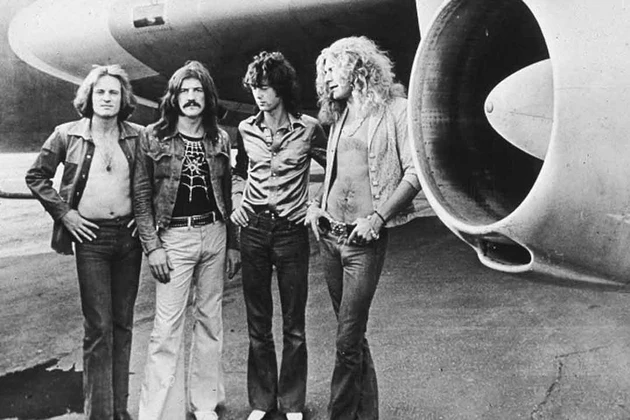 The attorneys alleging that Led Zeppelin plagiarized the intro to "Stairway to Heaven" from a Spirit song have been dealt a setback by a judge who refused to delay the case — and Zeppelin's lawyers added insult to injury, calling the claim "baseless" and accusing the plaintiff of requesting access to irrelevant information.
As previously reported, the case has been working its way to trial since being filed by founding Spirit bassist Mark Andes on behalf of California, who died in 1997. Similarities between the "Stairway" intro and Spirit's "Taurus" have long been noted, but California never pursued legal action. Now, Andes seeks to remedy the "falsification of rock 'n' roll history" by amending the "Stairway" songwriting credits.
Unfortunately for Andes, the case against Zeppelin seems to have hit a snag. The Wrap reports that the California estate's attorneys filed a motion to push back a scheduled cutoff for discovery, arguing that they needed more time to delve into the royalties accrued by "Stairway to Heaven." They've also requested access to the song's original masters, saying "further musical analysis" is needed.
Pointing out that the case was originally filed in May 2014 and transferred to its current jurisdiction a year later, Zeppelin's attorneys filed an opposition that goes on to argue, "Plaintiff has done little to prosecute this case and defendants' discovery has confirmed his claim is baseless. Now, on the eve of next Thursday's discovery cut-off, he seeks the Court's intervention to provide him more time to pursue that baseless claim. His application should be denied."
According to Bloomberg, the judge presiding over the case must have felt the defendants' argument was more persuasive, because the motion to reschedule has been denied. A May trial date now looms, though Bloomberg's report notes the case could end up being settled — or tossed out — before then: "The court has scheduled a settlement conference next month for the opposing parties to try to resolve the dispute. But Led Zeppelin also says they plan to file a motion for summary judgment to end the case."
Led Zeppelin Albums Ranked Worst to Best
Best of Ultimate Classic Rock