Revisiting That Time Keith Richards Crashed His Car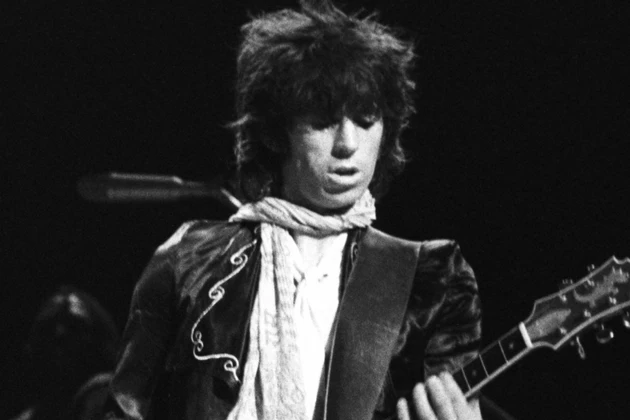 Keith Richards has cheated death so many times over the years that it can be hard to keep track of them all — but even on his impressively long list of nearly fatal incidents, the Rolling Stones guitarist's 1976 car crash still stands out.
On May 19, Richards was driving back to London after a Stones gig in Knebworth when he fell asleep at the wheel, drifting off the road and ramming into a tree. Even though he had seven passengers in the car — including his son Marlon — everyone escaped serious injury, a dose of good fortune attributed to the solid construction of Richards' 1965 Bentley.
"I'm a good driver. I mean, nobody's perfect, right? Somewhere I lost it, fell asleep. I just passed out. We skidded off the road," Richards recalled in his Life memoir. "All I hear is Freddie Sessler in the back going, 'Jesus f—ing Christ!' But I managed to get it off the road and into a field, which is after all the sensible thing to do. At least we didn't hit anybody, we didn't kill anybody, we didn't even hurt ourselves."
While he dodged disaster during the crash itself, Richards wouldn't be so lucky on the legal front. After police arrived at the scene, they discovered what was initially reported as a "drug substance" in the car, which resulted in an arrest and a fine for Richards — and spurred an investigation that led to speculation that the Stones were being used as unsuspecting mules for a drug syndicate.
As Richards later admitted, the car — which he'd nicknamed Blue Lena — had actually been retrofitted with a hidden compartment for transporting drugs. Richards' Bentley was part of a number of colorful Stones-related stories over the years, including serving as the setting for the start of his relationship with Anita Pallenberg, and made headlines when it went up for auction in 2015.
All things considered, the fallout from Richards' car crash could have been far worse, but it was still part of a tumultuous spring and summer for the Stones, who ultimately ended up canceling a batch of proposed U.S. tour dates later in the year. After the investigation, Richards ended up receiving what he appreciatively deemed "a slap on the wrist."
"I did make some speech along the lines of, this is my life, this is the way we live and s— happens. You don't live like me. I do what I have to do," Richards wrote in Life. "If I f— up, I'm very sorry. I'm just living a peaceful life. Let me get to the next gig. In other words, 'Hey, it's only rock 'n' roll.'"
Keith Richards Year by Year
Best of Ultimate Classic Rock