Judas Priest to Release Expanded Edition of 'Defenders of the Faith'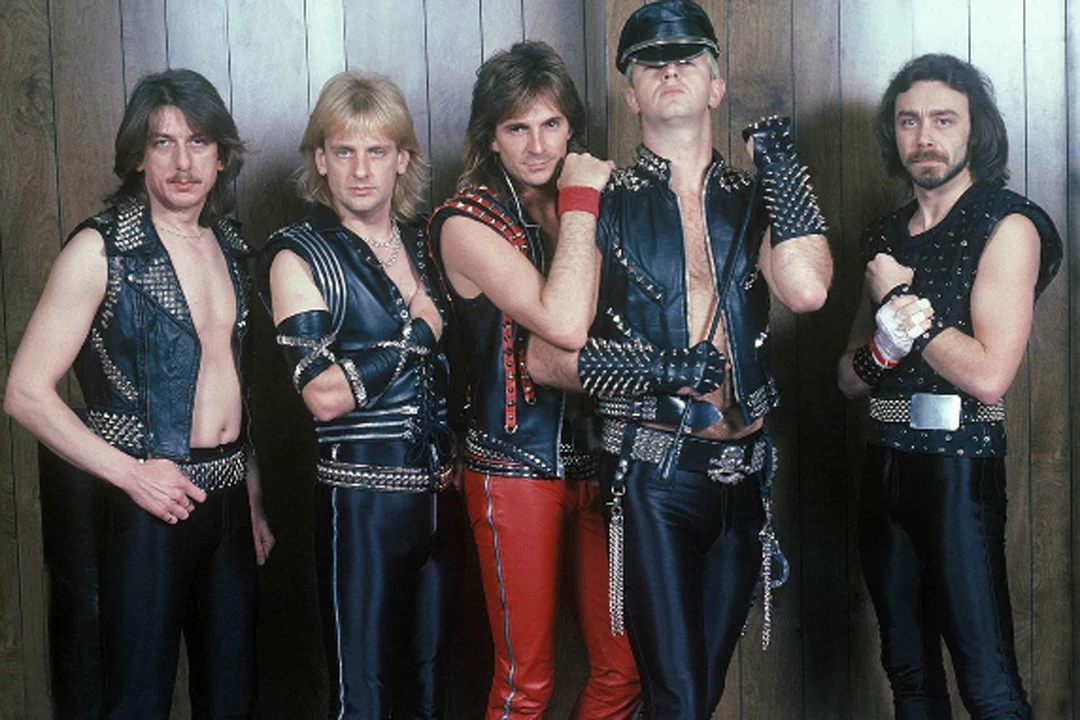 In 1984, Judas Priest continued their platinum-selling ways with 'Defenders of the Faith.' On March 10, 2015, the group will release a three-CD expanded version of the album.
"It's 30 years since we released 'Defenders of the Faith,'" the band writes in the liner notes. "We're very proud to say it has become a classic that's beloved by Priest fans throughout the world."
In addition to a remastered version of the original's 10 tracks by producer Tom Allom, the second and third discs are comprised of a complete concert from the Long Beach Arena in Long Beach, Calif., from May 5, 1984. The complete track listing can be found below.
Released on Jan. 4, 1984, 'Defenders of the Faith' was Judas Priest's follow-up to 1982's double-platinum 'Screaming for Vengeance.' It yielded three singles — 'Freewheel Burning', 'Some Heads Are Gonna Roll' and 'Love Bites' — and became well-known for its cover art, which featured a half-animal, half-tank creature called "Metallian" that was defined as the "master of all metal."
Judas Priest 'Defenders of the Faith' Expanded Edition Track Listing
Disc One: 'Defenders of the Faith'
1. 'Freewheel Burning'
2. 'Jawbreaker'
3. 'Rock Hard Ride Free'
4. 'The Sentinel'
5. 'Love Bites'
6. 'Eat Me Alive'
7. 'Some Heads Are Gonna Roll'
8. 'Night Comes Down'
9. 'Heavy Duty'
10. 'Defenders of the Faith'
Disc Two: 'Live at Long Beach Arena, California 5th May 1984′
1. 'Love Bites'
2. 'Jawbreaker'
3. 'Grinder'
4. 'Metal Gods'
5. 'Breaking the Law'
6. 'Sinner'
7. 'Desert Plains'
8. 'Some Heads Are Gonna Roll'
9. 'The Sentinel'
10. 'Rock Hard Ride Free'
Disc Three: Live at Long Beach Arena, California 5th May 1984
1. 'Night Comes Down'
2. 'The Hellion'
3. 'Electric Eye'
4. 'Heavy Duty'
5. 'Defenders of the Faith'
6. 'Freewheel Burning'
7. 'Victim of Changes'
8. 'The Green Manalishi (With the Two-Pronged Crown)'
9. 'Living After Midnight'
10. 'Hell Bent for Leather'
11. 'You've Got Another Thing Coming'
Judas Priest's Real-Life 'Spinal Tap' Stories
Subscribe to Ultimate Classic Rock on
See Glenn Tipton's and Other Rockers' Yearbook Photo
Best of Ultimate Classic Rock