Joe Lynn Turner Thinks Deep Purple Alumni Are 'Acting Like Children' About Rock Hall Induction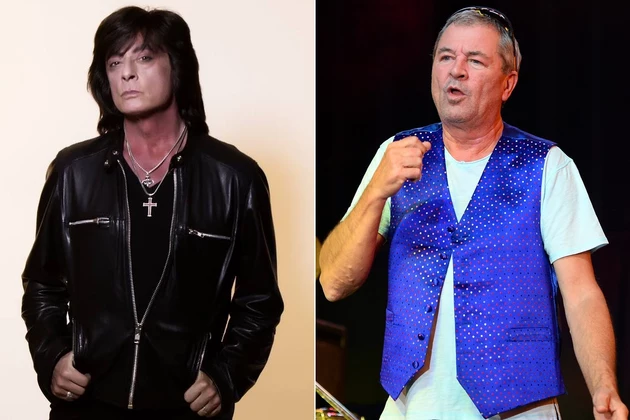 Ritchie Blackmore insists his former Deep Purple bandmates won't let him join them for their Rock and Roll Hall of Fame induction, while the group's current lineup insists Blackmore's making things up. According to singer Joe Lynn Turner, who performed with Blackmore in Rainbow and sang on Deep Purple's 1990 album Slaves and Masters, both sides are being ridiculous.
"If you ask me, they're all acting like children, and it's a mess, and it's a shame, and it's terrible for this to happen," Turner told Rock Overdose. "But, you know, for me, it shows you exactly what's happening over there — that these people don't know how to grow up and just shake hands and be friends; you know, just stop all the bulls—. And it's a shame; it's making a big circus out of the whole thing."
Not that Turner thinks much of the Rock Hall anyway. "It's just a Hollywood cabal, it's a Hollywood event, and it really doesn't have much to do with rock and roll anymore," he argued. "It's more of a celebrity event. In the early days, it was a true, honest … shall we say … organization. But now? I think Rock And Roll Hall of Fame has turned into a kind of a circus show. It's more like the Grammys or something stupid like that."
Turner also touched on his recent comments regarding Blackmore's current Rainbow lineup, which he described as a "cover band" while expressing disappointment that the reunion he tried to negotiate never came to fruition.
"I don't know why he calls it Rainbow," said Turner. "It's not Rainbow, you know. And, to me, he doesn't give anything, really, to the fans. Of course, you go see Ritchie play, but so what? That's it. And I think a guitarist of his stature — he's an icon, he's brilliant, etc. – he sort of had the best way possible to return to some rock and roll. And I don't think he's making a good decision by doing this. But, you know, that's all I can say about it. Ritchie has the right to do what he wants. But I think he's making a mistake in so doing."
Deep Purple Lineup Changes: A Complete Guide
Best of Ultimate Classic Rock