42 Years Ago: Jimi Hendrix's Final Concert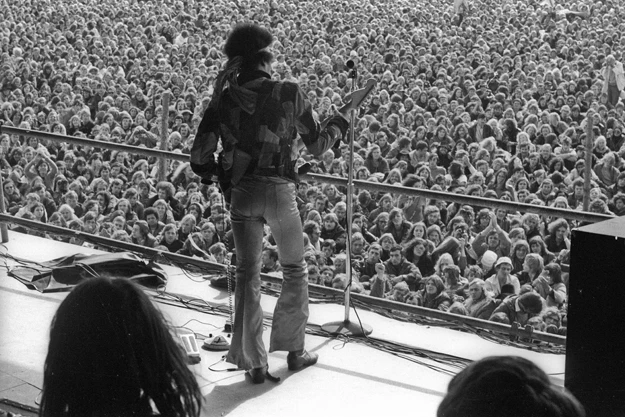 Hard to believe, but it has been forty two years since Jimi Hendrix gave his final concert. It was Sept. 6, 1970 when the second incarnation of the Jimi Hendrix Experience took the stage at the Open Air Love & Peace Festival in Fehmarn, Germany.
Backed by drummer Mitch Mitchell and bassist Billy Cox, Hendrix was originally scheduled to appear on the previous day of the festival. However, due to heavy rain storms, it was decided to move back one night. The Experience had just completed a run of six concerts in six days that included a headlining slot at both the Isle Of Wight on Aug. 30 and Berlin on Sept. 4.
In 2005, Experience Hendirx and Dagger Records released this final live concert on CD as 'The Jimi Hendrix Experience: Live At The Isle Of Fehmarn.' As their website states, "Unbeknownst to Hendrix, the promoters captured the group's entire performance by feeding two overhead stage microphones into a consumer grade Revox reel-to-reel tape machine located off to the side of the stage."
Legend has it that Hendrix' final appearance on stage was days later when he sat in with Eric Burdon and War for an impromptu jam session at Ronnie Scott's Jazz Club in Soho. Hendrix was found dead on Friday, Sept. 18, 1970. He was 27 years old.
Listen To 'Red House' by Jimi Hendrix from The Open Air Love & Peace Festival
Jimi Hendrix, Sept. 6 1970 Setlist:
'Killing Floor'
'Spanish Castle Magic'
'All Along the Watchtower'
'Hey Joe'
'Hey Baby (New Rising Sun)'
'Message to Love'
'Foxy Lady'
'Red House'
'Ezy Ryder'
'Freedom'
'Room Full of Mirrors'
'Purple Haze'
'Voodoo Child (Slight Return)'
Best of Ultimate Classic Rock