Iron Maiden Readying New Limited-Edition Beer for Late 2016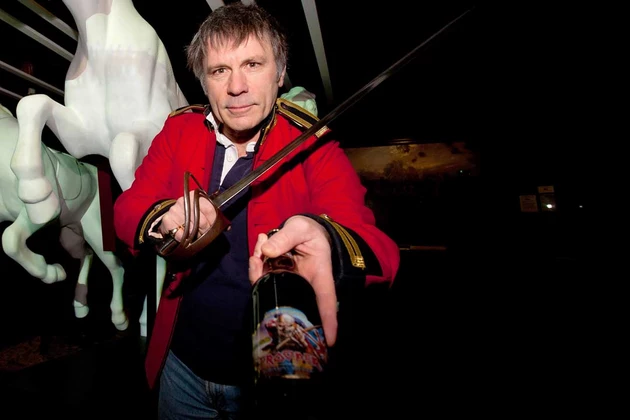 While they prepare to conquer the world with a 2016 tour in support of their recent The Book of Souls album, Iron Maiden are also planning a fresh assault on your neighborhood pub.
The International Business Times reports that singer Bruce Dickinson recently completed tastings for a new limited-edition Maiden beer, described as "somewhere between a stout and a porter," with plans for a launch late in the year. The report notes that while the new beer has yet to be given a name, at least in public, it's assumed it'll be named after a song from the Maiden catalog.
Whenever and under whatever name it arrives, Iron Maiden's new beer will serve as an expansion of a very successful side career for the band. The group's existing beer, Trooper, marked the milestone of 10 million pints sold last year, and celebrated with the rollout of a stronger brew dubbed 666 — which the Times report points out was only planned for a three-month production run, but is being "relaunched" on draft for an upcoming beer festival.
According to Dickinson, the idea for an Iron Maiden beer was inspired by the suggestion that they put their name on a red wine. "We said, 'Why would we want to do that?' But it gave us the idea of doing beer instead," he explained. "[I] selfishly wanted it to be the kind of beer I liked: a traditional English cask ale with lots of flavor, but you can drink a few of them without falling on your arse."
"This isn't a cash grab," added Dave Shack, managing director of the group's PR firm, Phantom Music Management. "This isn't about making millions of pounds from beer. This is about making a quality product that corroborates the band's position as a great British export and a very proud British institution."
Iron Maiden Albums Ranked Worst to Best
Rock's Worst Grammy Snubs
Subscribe to Ultimate Classic Rock on
Best of Ultimate Classic Rock