Duff McKagan Says Guns N' Roses' 'Use Your Illusion' Tour Took Two Years to Break Even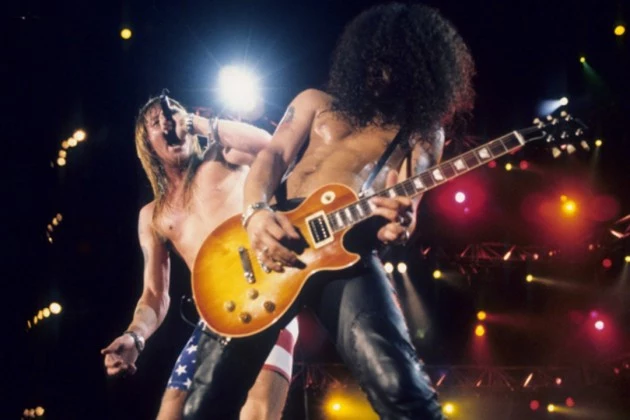 Guns N' Roses launched a suitably massive tour behind their sprawling, double-disc 'Use Your Illusion' albums in 1991, including a string of joint headlining dates with Metallica. It must have made everyone onstage a whole pile of money, right?
Not really, according to Duff McKagan. During an appearance on 'The Jasta Show' (which you can listen to below), the group's former bassist pulled back the curtain on early '90s GNR touring economics, saying that while "we generated a lot of money" with those shows, they also spent a lot — to the point that it may have affected the overall length of the tour.
"Oh, crap, we generated a lot of dough," recalled McKagan, who quickly added that the band had a 130-member crew to support. "We had two stages going — we had an 'A' stage and a 'B' stage going — around the world at all times. That's why we toured for two and a half years, 'cause it took us two years to break even — just to break even — on that tour."
The turbulence surrounding GNR during those shows has been well documented (you can watch Ultimate Classic Rock's video retrospective here), and McKagan's account of the band's money drain has been echoed by his fellow Guns vet, guitarist Slash, who looked back on the tour in his autobiography by writing, "Metallica was earning the exact same paycheck as we were every night, but while they pocketed the whole thing, we were blowing 80 percent both on union dues for all of the overtime we cost ourselves going on late and on these stupid theme parties. It was just bad."
Of course, McKagan turned out all right in the end anyway; as fans are no doubt aware, he later attended Seattle University's Albers School of Business and Economics, ultimately putting his studies to use as the founder of the artist wealth management firm Meridian Rock. As he shared elsewhere in the podcast, that knowledge has come in handy during dealings with GNR's label.
"They didn't pay us on something like six million records. Six million records! That's what we found," he incredulously recalled regarding the band's first audit of its balance sheet. "And they said, 'OK, fine. We'll pay you for two. Or you can sue us.' This is our record company. 'You can sue us for the rest, but it's gonna cost you. We have lawyers on staff.' So you do an audit settlement. You settle for about a third of what's owed you. And we've done, now, an audit every three years."
Duff McKagan Shares His Real-Life Spinal Tap Story
Subscribe to Ultimate Classic Rock on
See the Yearbook Photos of Duff McKagan and Other Rock Stars
Best of Ultimate Classic Rock