Guns N' Roses Lineup: Fortus, Ferrer, Reed and Pitman Reportedly Part of Reunion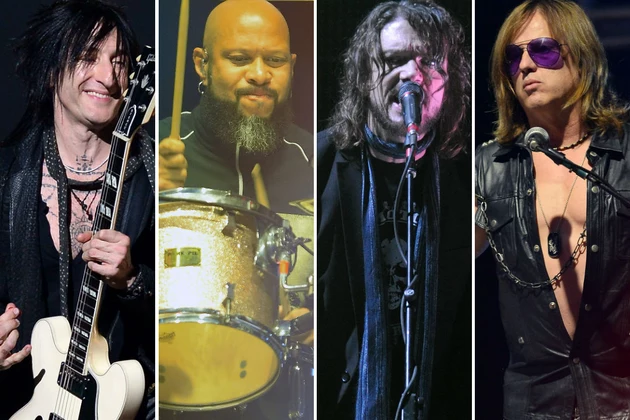 While we continue to wait for official word from the Guns N' Roses camp regarding who's on board for the group's upcoming Coachella shows, it's time to take a moment to gather the latest rumors about the 2016 GNR lineup.
As previously reported, we already know that Slash and Duff McKagan are back in the fold for the Coachella concerts. If recent reports are to be trusted, frontman Axl Rose will also be joined by a handful of vets from the more recent version of the group, with guitarist Richard Fortus, drummer Frank Ferrer and keyboardists Dizzy Reed and Chris Pitman mentioned as the strongest candidates to take the stage.
As tends to be the case with this sort of thing, what we have to go on stems from social media posts from the musicians and/or people connected to them. Ferrer, for instance, retweeted congratulations from a user who said he and Fortus gave the GNR lineup "a shot in the arm" and called them "all the best guys." Whether that's a sign that they're involved or just a tribute to time spent in the trenches is up to your interpretation, but the timing seems significant.
Congrats to @FrankFerrer66 and @richardfortus for giving @gunsnroses a shot in the arm. Perfect. All the best guys. pic.twitter.com/khqraNB20I

— FlashbackHeartAttack (@FlashbackHeartA) January 5, 2016
Reed's involvement, meanwhile, was suggested via tweets from his ex-wife Lisa, who shared their daughter's excitement that he'd be performing the same day as the singer Halsey. They were captured and retweeted by Mitch Lafon, who's been among the most reliable sources of information about the rejiggered GNR lineup.
Dizzy… 5/8 pic.twitter.com/I8Du34L50k

— Mitch Lafon (@mitchlafon) January 5, 2016
Finally, Pitman posted a live shot from a Guns N' Roses concert with the caption "gonna b a fun time 2016″ — which, again, could mean a couple of things, but would certainly seem to indicate his involvement.
gonna b a fun time 2016 #coachella #axlrose #GunsNRoses pic.twitter.com/V7gdUBQdv9

— Chris Pitman (@CPitmanofficial) January 5, 2016
As we've noted before, there are still a number of questions surrounding GNR's upcoming activity, and it's anyone's guess as to when we'll get the answers, but this has clearly been in the works for awhile — according to members of Slash's solo band, their plans have been common knowledge behind the scenes "for a long time."
Every Guns N' Roses Song Ranked
Slash Explains How Guns N' Roses Got Together
Subscribe to Ultimate Classic Rock on
Best of Ultimate Classic Rock