George Martin Dies: Rockers React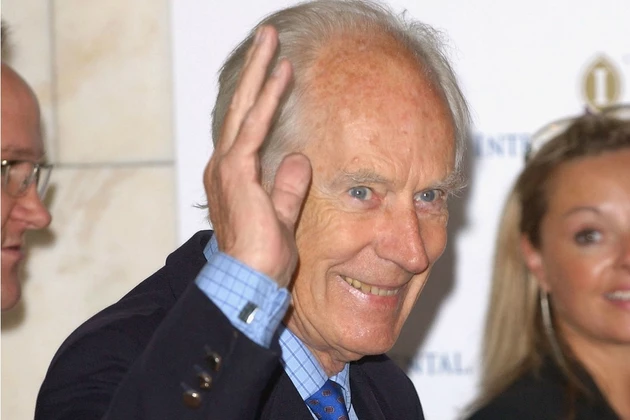 News of producer George Martin's passing has inspired many of the countless artists influenced by his work to share their memories and farewell messages on Facebook and Twitter.
Martin's family has confirmed reports of his death, noting that he "passed away peacefully at home" at the age of 90. Surviving former Beatles members Paul McCartney and Ringo Starr, who worked hand in hand with Martin for the duration of the band's career after he signed them to their first record deal, were naturally among the first — and most emotional — to pay tribute.
"I have so many wonderful memories of this great man that will be with me forever," wrote McCartney in a lengthy memorial essay. "He was a true gentleman and like a second father to me. He guided the career of the Beatles with such skill and good humor that he became a true friend to me and my family. If anyone earned the title of the fifth Beatle, it was George. From the day that he gave the Beatles our first recording contract, to the last time I saw him, he was the most generous, intelligent and musical person I've ever had the pleasure to know."
McCartney and Starr are but a few of the many artists who've come forward to pay their respects — a group that also includes the families of George Harrison and John Lennon as well as a growing array of rockers whose own approach to the studio was deeply shaped by the groundbreaking work Martin did with the Beatles and a long list of other clients.
Queen guitarist Brian May was moved to write a remembrance at his personal site, offering sad condolences to Martin's family and noting his own appreciation for his work. "Always always positive, and deeply thoughtful and creative, the man was a gentle giant of popular music," wrote May. "I didn't know him well, but our few conversations were full of light. Massive respects and love. Bless you, George!"
None of the tributes pouring in from the rock world — more of which you can read below — mean more than the one from Martin's son Giles, who embarked on his own career in music and later worked alongside his father in the studio for the Beatles remix project Love. Giles bade his father a loving farewell, writing, "I'm so proud to have been your son. I'll miss you more than words can say. Thank you for the all times we had together."
RIP Sir George Martin. Our love and thoughts are with his family today. https://t.co/yz2UOqDQvY pic.twitter.com/FEmk64zJND

— The Beatles (@thebeatles) March 9, 2016
God bless George Martin peace and love to Judy and his family love Ringo and Barbara George will be missed xxx ✌️☮

— #RingoStarr (@ringostarrmusic) March 9, 2016
George Martin was a gentleman above all. May he rest in peace. Our thoughts are with Judy & the family at this sad time. -Olivia and Dhani

— George Harrison (@GeorgeHarrison) March 9, 2016
George Martin RIP pic.twitter.com/cOykiWPCI5

— John Lennon (@johnlennon) March 9, 2016
R.I.P. George Martin. I'm so gutted I don't have many words. Thinking of Judy and Giles and… https://t.co/3Nc8sCgRpN

— Sean Ono Lennon (@seanonolennon) March 9, 2016
RIP dad. I love you. I'm so proud to have been your son. I'll miss you more than words can say. Thank you for the all times we had together.

— Giles Martin (@mashupmartin) March 9, 2016
God Bless George Martin.
He defined what Production as we know it could be. A genius arranger/musician and pure class. He will be missed..

— Steve Lukather (@stevelukather) March 9, 2016
Saddened by the passing of our dear friend and musical collaborator Sir George Martin. Uniquely special man. RIP pic.twitter.com/FclhlqEmv5

— America (@americaband) March 9, 2016
Awww man! RIP Sir George Martin and thank you for the inspiration! My life wouldnt have been the same without you.

— Dave Navarro (@DaveNavarro) March 9, 2016
Sir George Martin RIP LG x

— Liam Gallagher (@liamgallagher) March 9, 2016
Goodbye George Martin, thanks for producing the music that changed my world and everyone else's.… https://t.co/So1VjRkWNv

— Bryan Adams (@bryanadams) March 9, 2016
RIP Sir George Martin~ https://t.co/BlhD7IG2MP

— Micky Dolenz (@TheMickyDolenz1) March 9, 2016
Remembering George Martin who we sadly lost today. Our thoughts are with his friends & family. Thank you George… https://t.co/phhON78fOu

— FOGHAT (@FOGHAT) March 9, 2016
RIP Beatles producer George Martin pic.twitter.com/JIJLf0FLtR

— Brian Eno (@dark_shark) March 9, 2016
Legendary Producer behind The Beatles Sir George Martin has passed at 90 , incredible … https://t.co/gl2F16Vxbj pic.twitter.com/BNE6GFOjf5

— matt sorum (@mattsorum) March 9, 2016
George martin. Wow. People made records that were that good.

— Flea (@flea333) March 9, 2016
RIP to my musical brother George Martin. We were friends since 1964, & I am so thankful 4 that gift. Bless u & your precious posse 4ever.❤️Q

— Quincy Jones (@QuincyDJones) March 9, 2016
Beatles Albums, Ranked Worst to Best
Best of Ultimate Classic Rock