Gene Simmons Thinks Ray Rice Might Need to Become 'Somebody's Girlfriend' in Prison So He Can Understand Abuse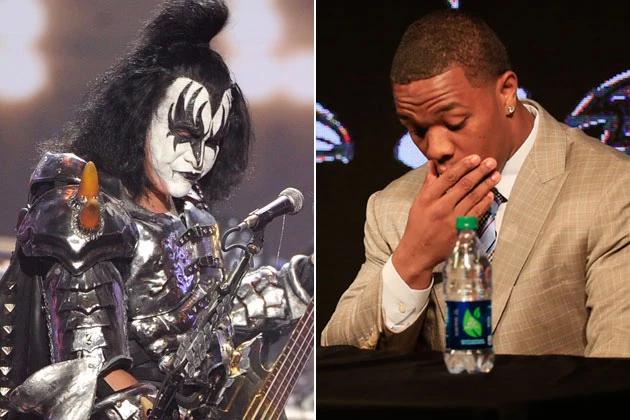 Because nothing can happen in this country without someone asking Gene Simmons what he thinks about it, now we have the Kiss co-founder's thoughts on the aftermath of Ray Rice's vicious physical attack on his then-fiancee in a casino elevator earlier this year.
The ugly incident, which was captured on security cameras, initially only led to a two-game suspension for the Baltimore Ravens running back — a punishment that many decried as insufficiently severe, especially in a league where drug violations are routinely met with much harsher penalties. The NFL was forced to reconsider after the complete footage was released to the public via TMZ, leading to Rice's indefinite suspension by the league and the termination of his contract by the Ravens.
Since the attack, Rice and his fiancee Janay Palmer have married, and Palmer — who now goes by Janay Rice — blasted her husband's punishment in an Instagram post, promising that the couple will "continue to grow & show the world what real love is." Now, Simmons has joined the chorus of onlookers who have expressed dismay.
"We're all in the peanut gallery — none of us know the specifics expect what we saw on TV," he said during a recent appearance on 94WIP's 'Mike & Ike Show.' "And if the NFL knew about it, whether it is the commissioner or anybody else, they're held accountable. But the saddest part of all is that — and look, I'm not involved, we're just watching it on TV, so we really don't know all the details — but it's sad that Rice's wife or fiancee isn't copping to the fact that she was abused. More than abused — knocked out, the physical stuff."
Adding that he's "against physical violence of anybody," Simmons argued, "You raise your hand to somebody, you should he held accountable, not just in the legal system. It's unsportsmanlike. You know, there is such a thing as sportsmanlike behavior."
Simmons then proceeded to put his money where his mouth is, vowing that anyone on the Kiss-owned L.A. Kiss AFL football team who's "caught doing anything illegal or anything like that is gone" and pointing to the organization's attempted signing of former NFL quarterback Tim Tebow as an example of its values. "Here's a guy who's a devout Christian, who, religion is very important in his life, and people make fun of it. Really? You're picking on him because he's a Christian? He never tortured a dog, never knocked out his girlfriend in an elevator, is not up for murder of anybody, allegedly. And this is the guy you pick on? Why? 'Cause he's a Christian? Really?"
And as for a suitable punishment for Ray Rice? Simmons has an idea. "That guy needs … Well, my opinion is, if he was in jail for a day and became somebody's girlfriend, maybe he'd know what abuse is like," he shrugged. "But that's another story."
Best of Ultimate Classic Rock