Top 10 Geezer Butler Black Sabbath Songs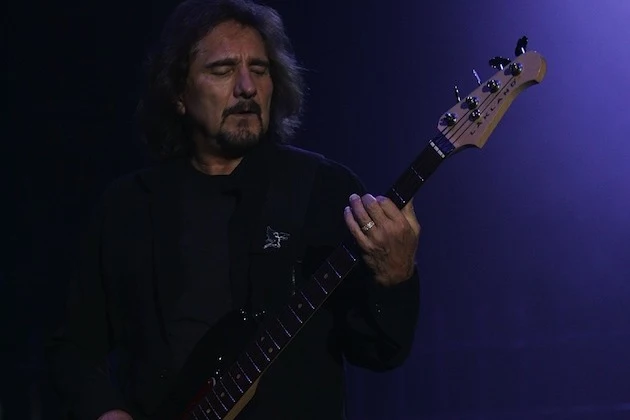 If Black Sabbath laid down heavy metal's basic foundation, then it only stands to reason that Terry 'Geezer' Butler pretty much sketched the blueprints for the heavy metal bass player. Unlike many rock 'n' roll bassists who quietly tuck themselves away from the spotlight near the back of the stage, Butler transformed his earth-quaking four-string into an aggressive component of Black Sabbath's sound. Plus, he was the band's primary lyricist during its glory days in the '70s. So, the Top 10 Geezer Butler Black Sabbath Songs is also, in a way, a list of metal's bedrock.
"Computer God"
From: 'Dehumanizer' (1992)
When the Ronnie James Dio-fronted lineup of Black Sabbath reconvened to record 1992's 'Dehumanizer' LP, time was crucial: No one knew how long the band would get along before falling out again. Which meant they were pulling songs from a bunch of different places. "Computer God," for instance, had originally been demoed between 1986 and 1988 for the stillborn Geezer Butler Band. Its resurrection on 'Dehumanizer' translates to a stellar opening for the album.
"Junior's Eyes"
From: 'Never Say Die!' (1978)
Black Sabbath's final album with Ozzy Osbourne (until 2013's '13') has little to recommend, as the once unstoppable hard-rock juggernaut was quickly stumbling toward a messy breakup. But among the brief flashes of inspiration on 'Never Say Die!' is "Junior's Eyes," a touching tribute to Osbourne's late father introduced, guided and grounded by one of Butler's distinct bass lines.
Maybe the ultimate expression of doom metal, as originally scripted by Black Sabbath, "Iron Man" features both Butler and guitarist Tony Iommi setting new benchmarks for sloth and grind with their slightly lower-tuned guitars. This essentially amounts to one of metal's most crucial cornerstones. But besides Butler's evocatively apocalyptic lyrics, his fleet-fingered and galloping bass near the 4:40 mark accelerates this lumbering behemoth toward a climatic and thrilling finale.
On this popular head-banger from 1972's impossibly sinister and eclectic 'Vol. 4' album, Butler selflessly throws his lot behind Iommi's kinetic riffs and Bill Ward's warlike drums with typical abandon … to a point. Somewhere near the 20-second mark, Tony Iommi's mighty guitar riff breaks off to reveal the real engine propelling the song inexorably forward like the chrome steel pistons of Armageddon itself: Butler's churning, muscular bass.
"Symptom of the Universe"
It was tough to omit Butler's psychedelic bass bubbling beneath the dark waters of "The Writ," the closing epic on 'Sabotage.' (He may have been the first player to use wah-wah so heavily.) But "Symptom of the Universe," the album's best-known track, deserves a spot on our list of the Top 10 Geezer Butler Black Sabbath Songs. Butler's four-string is a steamrolling rhythmic locomotive here, as his lyrics reach new heights of imagination amid mythological references and metaphysical imagery. A classic.
Probably the darkest song from 1970's watershed 'Paranoid' LP (and that's saying something!), this harrowing condemnation of heroin addiction boasts some of Butler's most earnestly soul-chilling lyrics. The song builds from the ground up on an ominous bass figure – the type that helped define Black Sabbath's sound as much as any Tony Iommi guitar riff, Ozzy Osbourne wail or Bill Ward cymbal crash.
'Solitude'
From: 'Master of Reality' (1971)
This laid-back and tripped-out ballad – the only one to make our list of the Top 10 Geezer Butler Black Sabbath Songs – snuck into one of the heaviest albums ever recorded. Like "Planet Caravan" from 'Paranoid,' "Solitude" strips away the electric guitars, pounding drums and banshee screams to showcase the band at its most mellow. All of which helps bring Butler's agile bass fingerings to the forefront.
"War Pigs" not only ranks among Sabbath's – and therefore heavy metal's – signature songs, it also may be Butler's greatest achievement as a lyricist. The song's brazen indictment of warmongers at the height of the Vietnam War struck a personal chord with thousands of young people, and served as a catalyst to the band's meteoric rise. Notice how Butler's fingers dance all over his instrument's neck as his serpentine grooves twist and writhe in sympathetic agony.
"Heaven and Hell"
From: 'Heaven and Hell (1980)
Black Sabbath's triumphant return with singer Ronnie James Dio, almost exactly 10 years after their rise out of Birmingham's iron works, proved the cynics wrong. "Heaven and Hell" is a classic of building tension in the vaunted Sabbath tradition. The title track of the 1980 comeback album owes much to Butler's stately bass line and timely counter licks.
"N.I.B."
From: 'Black Sabbath' (1970)
Heavy metal's long tradition of making the bass guitar the lead instrument starts on this slow-marching mastodon from Black Sabbath's eponymous debut. "N.I.B." begins with Butler flying solo, before rolling into an ominous bass figure and then into frantic, almost jazzy improvisations. At the same time, this track unleashes some of the scariest lyrics Butler ever penned, narrated by Lucifer himself. Needless to say, with this unbridled metallic authority and bad intent bleeding from its torn-open veins, "N.I.B." did much to define the core Black Sabbath aesthetic –musically and thematically.
Best of Ultimate Classic Rock