Top 10 Gary Rossington Songs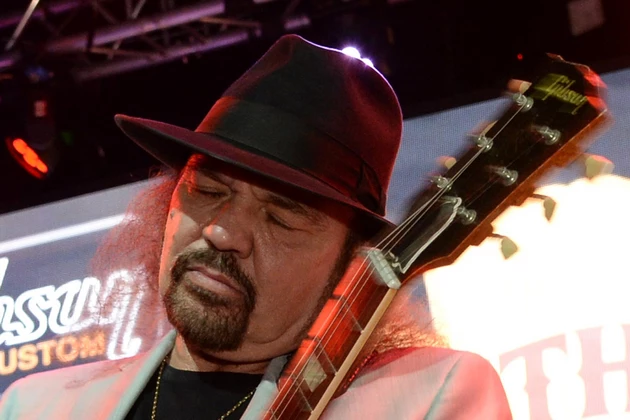 Our list of Top 10 Gary Rossington Songs works like a road map for the Lynyrd Skynyrd guitarist's dogged determination, as his legend continues to thrive against steep odds.
Along the way, Rossington has suffered his share of health setbacks, yet he remains the band's stalwart original member. That's meant collaborating on a series of cherished Southern rock albums through every successive incarnation of Lynyrd Skynyrd, dating back to 1964, when Rossington joined up with his friends Ronnie Van Zant and Allen Collins to form My Backyard in Jacksonville, Fla.
Rossington has described them as the Three Muskateers, and both the late Van Zant and Collins play huge roles in our list of Top 10 Gary Rossington Songs. Together, they built a friendship that was as strong outside the studio – Rossington and Van Zant, for instance, loved to fish together – as it was inside.
The lowest moment was surely the awful tragedy that decimated Lynyrd Skynyrd in the '70s. Several people, including Van Zant and guitarist Steve Gaines, were killed in a plane crash, while the rest of the group was gravely injured. But Rossington's story, like that of Skynyrd itself, continued – and he's made vital music in the years since, as you'll see.
Our list includes plenty of music that the guitarist co-wrote in the classic-era of Lynyrd Skynyrd. But we also touch on his work with fellow guitarist Collins in the Rossington-Collins Band, along with Rossington's latter-day stint as the group's unquestioned post-reunion leader.
From: 'Pronounced 'Lĕh-'nérd 'Skin-'nérd' (1973)
A scalding, blues-braised deep cut, and an unlikely star turn. But even on a song in which co-writer Ronnie Van Zant throws sharp barbs at politicos who ignore conditions on the ground, Rossington – whose lead lines help propel "Things Goin' On" with a stinging, Muscle Shoals-influenced groove – makes himself known.
From: 'This Is the Way' (1981)
Co-written with tough vocalist Dale Krantz, a former backup singer with .38 Special who later married Rossington, the rough and randy "Don't Stop Me Now" showed how the guitarist could build off Lynyrd Skynyrd's familiar template, even while surrounded by surviving former Skynyrd bandmates like Collins, Billy Powell and Leon Wilkeson.
From: 'Lynyrd Skynyrd 1991′ (1991)
Members of the Rossington-Collins Band, along with Ronnie Van Zant's kid brother Johnny, ultimately coalesced again as Lynyrd Skynyrd after a celebrated reunion tour. On record, Ronnie's straight-razor wit was sorely missed, but – as heard on this snarling Rossington-led anthem – the band had lost none of its bite.
From: 'Street Survivors' (1977)
A searching song originally demoed at Muscle Shoals for Lynyrd Skynyrd's shelved debut, "One More Time" didn't see release until 1977, on the last album before everything changed. Rossington was joined in this lineup by Ed King, Rickey Medlocke and Greg Walker, rather than then-current members Steve Gaines, Artimus Pyle and Leon Wilkeson.
From: 'Anytime, Anyplace, Anywhere' (1980)
Co-writer Dale Krantz offers a searching, Janis Joplin-like vocal as Rossington reanimates Lynyrd Skynyrd's old multi-guitar magic by taking an early turn before giving way to a scorching Allen Collins solo. Stand-out moments like this one and "Don't Misunderstand Me" helped push the Rossington-Collins Band's gold-selling debut album into the Top 15.
From: 'Gimme Back My Bullets' (1976)
Meant as a comeback message aimed at Billboard (the magazine would call an up-and-coming song, say, "No. 25 with a bullet"), "Gimme Back My Bullets" disappeared from Skynyrd's sets for a time. Seems literal-minded fans began to pelt them with actual bullets. Unfortunately, even Rossington's deliciously nasty work on this title track couldn't push the album past No. 20.
From: 'Second Helping' (1974)
Rossington had this opening banjo-style riff he couldn't get out of his head and, after a while, Ronnie Van Zant began to write words for it. Those typically biting lyrics – they name-checked Neil Young's "Southern Man" specifically – would become a source of lingering controversy, as "Sweet Home Alabama" hurtled to Lynyrd Skynyrd's highest-ever finish, going to No. 8 on the chart.
"Don't Ask Me No Questions"
From: 'Second Helping' (1974)
An often-forgotten single that preceded "Sweet Home Alabama," "Don't Ask Me No Questions" grew out of a much-needed fishing trip Rossington took with Ronnie Van Zant in the period after Lynyrd Skynyrd's debut album took off. The cutting riff, not to mention some raunchy horns, punctuate a leave-me-alone message from guys who were obviously still struggling to manage new-found fame. Thing is, they were about to get a while lot bigger.
From: 'Street Survivors' (1977)
Skynyrd added Steve Gaines after Gimme Back My Bullets, producing perhaps their most complete studio effort and certainly their best arranged. But it was Rossington who kicked things off with this album-opening statement of purpose, written with Ronnie Van Zant in a hotel room on the road about the things that often occur in just such a place. Released days before the fatal plane crash, "What's Your Name" rose to No. 13.
From: 'Pronounced 'Lĕh-'nérd 'Skin-'nérd' (1973)
Gary Rossington and Ronnie Van Zant began this anthemic album-closer in a moment of sad remembrance, after losing their mother and grandmother, respectively. Producer Al Kooper reportedly added his organ parts later, and cautioned Lynyrd Skynyrd against releasing the song. Fans had the final say, however, and "Simple Man" – with a solo by Rossington that sounds like he's mind melding with Allen Collins – remains a concert favorite to this day.
Best of Ultimate Classic Rock