Rockers React to David Bowie's Passing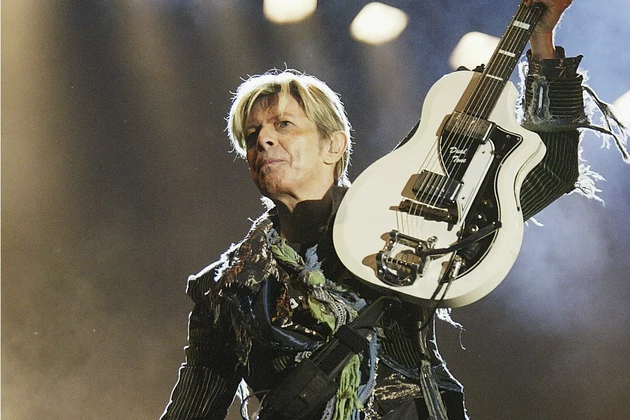 The sad news of David Bowie's death has prompted many of his friends, peers and famous fans in the rock community to share their grief, tributes and memories on social media.
According to Bowie's representatives, he passed peacefully on Jan. 10 after an 18-month battle with cancer, dying two days after he celebrated his 69th birthday with the release of his 25th studio LP, Blackstar. It's a testament to his incredible career that celebrities from across the spectrum have lined up to honor Bowie in the hours since his death was made public, with musicians, actors and filmmakers among the many artists claiming his work as an influence.
Fellow British rock legends the Rolling Stones, the Who and Queen were some of the first to pay their respects. Describing their mood as "shocked and deeply saddened," the Stones added, "As well as being a wonderful and kind man, he was an extraordinary artist and a true original." The Who offered condolences from Pete Townshend and Roger Daltrey, while Queen drummer Roger Taylor referred to Bowie as "The cleverest and most interestingly brilliant man of our time."
Those serve as just a very small sample of the many Bowie tributes, more of which you can check out below from a varied cross-section of rockers that includes Jimmy Page and Peter Gabriel as well as Dee Snider, the Doobie Brothers and members of Mötley Crüe. The most poignant comment on Bowie's passing came from his son, director Duncan Jones, who posted a photo of himself riding his father's shoulders as a baby and added, "Very sorry and sad to say it's true. I'll be offline for a while. Love to all."
MESSAGE FROM IGGY: "David's friendship was the light of my life. I never met such a brilliant person. He was the best there is. - Iggy Pop"

— Iggy Pop (@IggyPop) January 11, 2016
As John & I had very few friends, we felt David was as close as family. Sweet memories will stay with us forever. pic.twitter.com/WoZsztnm4E

— Yoko Ono (@yokoono) January 11, 2016
Paul on @DavidBowieReal https://t.co/KVxmjBdYT1 pic.twitter.com/aNJi3BjAuv

— Paul McCartney (@PaulMcCartney) January 11, 2016
The Rolling Stones are shocked and deeply saddened to hear of the death of our dear friend David Bowie… 1/2

— The Rolling Stones (@RollingStones) January 11, 2016
As well as being a wonderful and kind man, he was an extraordinary artist, and a true original. 2/2 #DavidBowie

— The Rolling Stones (@RollingStones) January 11, 2016
Thinking of you David, God bless XR pic.twitter.com/Xx1MgMwX2c

— Ronnie Wood (@ronniewood) January 11, 2016
We had so many good times together. He was my friend, I will never forget him. 2/2 pic.twitter.com/9xfPj88x8b

— Mick Jagger (@MickJagger) January 11, 2016
Rest in peace @DavidBowieReal 1947-2016. With love, Pete Townshend and Roger Daltrey. https://t.co/ufVVu0G07y

— The Who (@TheWho) January 11, 2016
Bowie was an innovator, a unique artist with a vision that changed the face of popular music. He is greatly missed. pic.twitter.com/bfBXfItDMa

— Jimmy Page (@JimmyPage) January 11, 2016
I was shocked to learn of David Bowie's death this morning… we will miss him badly – pg https://t.co/fEHNiz5ODk pic.twitter.com/dLvsgBonu8

— Peter Gabriel (@itspetergabriel) January 11, 2016
"Heroes, for me, was always one of the great Bowie tracks. Heroism in the face of oppression and desperation" – pg https://t.co/QfOFKwImfL

— Peter Gabriel (@itspetergabriel) January 11, 2016
David Bowie: @DrBrianMay's words on today's news @ https://t.co/ryVj4AI1Rp

— Queen Official (@QueenWillRock) January 11, 2016
David Bowie: The cleverest and most interestingly brilliant man of our time. What a vacuum he leaves, and how he will be missed. Roger

— Queen Official (@QueenWillRock) January 11, 2016
oh no. my hero. bowie. the most beautiful. i love him with everything i am. rock music is over, done. he was the best. none came close. rip

— Flea (@flea333) January 11, 2016
Throughout the 60s in the painterly world, Pop Art held sway. No surprise that, towards the end of that decade,… https://t.co/pDx7gSFiY4

— Jethro Tull (@jethrotull) January 11, 2016
David Bowie was an innovator and a pioneer. We are so sad to see him go. He will be remembered! #RIPDavidBowie pic.twitter.com/zrQJaGXdf8

— The Doobie Brothers (@TheDoobieBros) January 11, 2016
RIP David https://t.co/WqdRm85r6p

— JOURNEY (@JourneyOfficial) January 11, 2016
RIP David. I love you.

— adrian belew (@THEadrianbelew) January 11, 2016
My heart is absolutely broken the sky has fallen so much love to David's family and fans we love you David pic.twitter.com/6Qt0W3OXsI

— THE CULT (@officialcult) January 11, 2016
He inspired us to go beyond the norm & reach out & dispel the void of life in 70's England wth r own art forms…. https://t.co/saFNM9CJI7

— Billy Idol (@BillyIdol) January 11, 2016
So today I lose another hero. Not quite like @iamlemmy, but an important influence on my life, style and career. Goodbye @DavidBowieReal RIP

— Dee Snider (@deesnider) January 11, 2016
RIP David Bowie .. A message from Joe https://t.co/LBouC43Uma pic.twitter.com/NjvtwXSRzj

— Def Leppard (@DefLeppard) January 11, 2016
David Thanks for showing us all how to do it. Rest in peace.

— Joe Walsh (@JoeWalsh) January 11, 2016
There aren't words enough to express the feeling of loss in this moment. RIP David. You will be… https://t.co/9N2DkKLzJt

— Slash (@Slash) January 11, 2016
We are truly saddened to learn that David Bowie has passed away. A true music icon! Our thoughts are with his… https://t.co/DFHkYmTY97

— FOGHAT (@FOGHAT) January 11, 2016
R.I.P. Thin White Duke…You inspired me to be more than a musician.You inspired me to be an artist my whole life. pic.twitter.com/YCy7JxoOQW

— ⚡️ Nikki Sixx ⚡️ (@NikkiSixx) January 11, 2016
The world loses another rockstar! FUCK! Goodbye Mr.Bowie it was a pleasure to meet you! https://t.co/glVZNex3ca

— T❍mmy L33 (@MrTommyLand) January 11, 2016
Rest in peace, David. pic.twitter.com/9Kv9yM9igh

— Foo Fighters (@foofighters) January 11, 2016
140 characters will not suffice (nor would ten thousand words) #DavidBowie we love you and we will miss you… https://t.co/FWPTZQkzxw

— Chris Cornell (@chriscornell) January 11, 2016
RIP DAVID BOWIE. An artist and pioneer in every sense. Long live Ziggy Stardust and the Thin White Duke. Thank you. pic.twitter.com/Ixz1SU7kaL

— Paul Stanley (@PaulStanleyLive) January 11, 2016
David Bowie, you will be sorely missed. Bowie's "Changes" and the Ziggy story songs were a major influence for me. pic.twitter.com/N1nkD9h82W

— Gene Simmons (@genesimmons) January 11, 2016
David Bowie, his music impacted us all, a hero to generations of fans. pic.twitter.com/A3lGZV76FC

— Tommy Thayer (@tommy_thayer) January 11, 2016
David Bowie.. RIP

— Steve Lukather (@stevelukather) January 11, 2016
Very sorry and sad to say it's true. I'll be offline for a while. Love to all. pic.twitter.com/Kh2fq3tf9m

— Duncan Jones (@ManMadeMoon) January 11, 2016
Thank you David Bowie for your unique brilliance. You may be gone, but your genius will forever… https://t.co/B2Avr0WLCK

— Kelly Hansen (@TheKellyHansen) January 11, 2016
A huge loss – we're absolutely devastated. #RIPDavidBowie https://t.co/4bckiX43Mh

— The Zombies (@TheZombiesMusic) January 11, 2016
David Bowie Year by Year: 1965-2016 Photographs
Rock's Worst Grammy Snubs
Subscribe to Ultimate Classic Rock on
Best of Ultimate Classic Rock