David Bowie Has 19 Albums on the U.K. Chart Right Now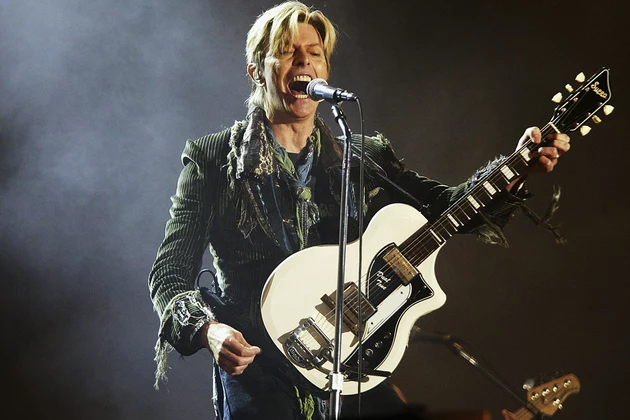 Not so surprisingly, David Bowie albums have been selling quite well since his death on Jan. 10. But was anyone expecting this? According to NME, Bowie LPs account for nearly one-fifth of the current Top 100: A staggering 19 albums are on the just-released chart.
Blackstar, his final album – which was issued just a week ago and two days before his death of cancer – checks in at No. 1. Meanwhile, classic LPs Hunky Dory (No. 14), The Rise and Fall of Ziggy Stardust and the Spiders From Mars (No. 17), Aladdin Sane (No. 23), Low (No. 31) and Station to Station (No. 55) all secured spots, while the compilations Nothing Has Changed, The Best of 1969/1974, Best of Bowie and The Best of 1980/1987, as well as the Five Years box set, also made the Top 100.
Additionally, Bowie also fares well on the new singles chart, logging 13 songs that range from 1969's "Space Oddity" (at No. 24) to the new "Lazarus" (No. 45). "Heroes," from 1978, comes in at the highest position with a No. 12 showing.
NME (via Official Charts) breaks down Bowie's chart action. You can see the rankings below.
Album Chart:
1. Blackstar
5. Nothing Has Changed
9. The Best of 1969/1974
14. Hunky Dory
17. The Rise and Fall of Ziggy Stardust
18. Best of Bowie
23. Aladdin Sane
25. The Next Day
31. Low
37. Diamond Dogs
42. Let's Dance
45. Heroes
55. Station to Station
59. The Best of 1980/1987
60. Young Americans
61. Scary Monsters
89. The Man Who Sold the World
95. Space Oddity
97. Five Years – 1969-1973
Singles Chart:
12. "Heroes"
16. "Life on Mars?"
18. "Starman"
23. "Let's Dance"
24. "Space Oddity"
43. "Under Pressure"
45. "Lazarus"
49. "Changes"
61. "Blackstar"
62. "Ashes to Ashes"
65. "Rebel Rebel"
76. "Ziggy Stardust"
97. "China Girl"
Every David Bowie Single Ranked
Best of Ultimate Classic Rock