Dave Grohl Is Rehabbing His Broken Leg by Listening to Lots of Led Zeppelin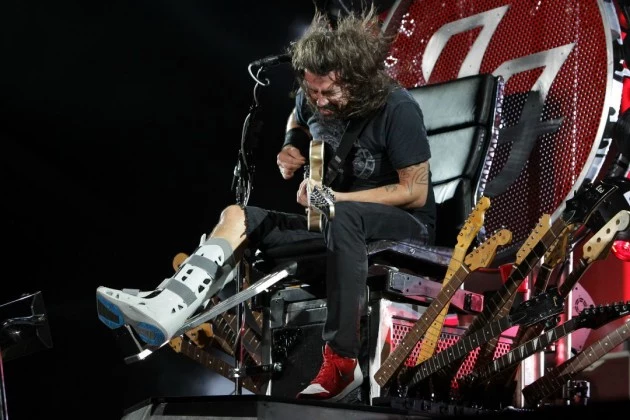 In case you ever doubt the healing power of rock 'n' roll, Dave Grohl is here to remind you that there's really nothing a little Led Zeppelin can't help fix — not even a broken bone.
The Foo Fighters frontman tells Q (via NME) that he's using classic Zep tracks to aid in the rehab for the leg he broke after falling off a stage in June. Although he stressed that he's "doing fine," he admitted it'll take some work to get him back to where he was before the accident.
"It's funny, ever since I started playing the drums my right calf muscle has been twice the size of my left from stomping the hell out of my kick drum pedal," mused Grohl. "Now it looks like a sad little chicken wing so I've been doing a little bit of my own rehab therapy lately, which is air drumming along to Led Zeppelin three times a day. Sports doctors, take note."
Grohl's injury meant the Foos had to give up their headlining slot at this year's Glastonbury festival, a painful loss he says was partly mitigated by the fact that the band was replaced by Florence + the Machine, who ended up covering the Foo Fighters' "Times Like These."
"She gave me great advice for healing broken bones and said 'We're going to cover 'Times Like These,'" he recalled. "The day after the gig, someone sent me a link to the performance and I cried like a f—ing baby. It melted my f—ing heart. I am forever indebted to them. It meant so much, you have no idea."
Watch Florence + the Machine Perform Foo Fighters' 'Times Like These'
Subscribe to Ultimate Classic Rock on
See Foo Fighters and Other Rockers in the Top 100 Albums of the '90s
Best of Ultimate Classic Rock