The History of Classic Rock Chuck Berry Cover Songs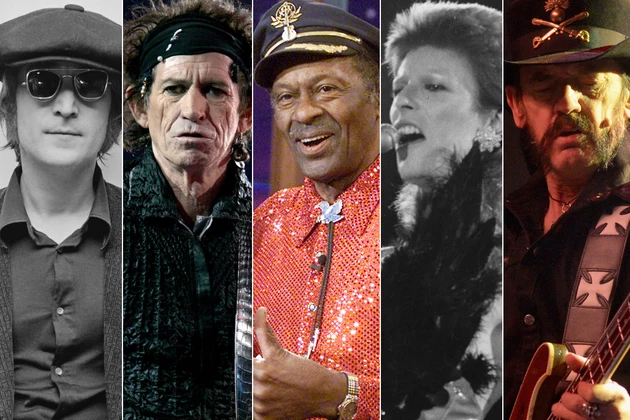 Classic rock fans grew up listening to Chuck Berry songs, even if they never bought one of the rock pioneer's groundbreaking '50s records. His music has been covered by '60s legends like the Beatles and Rolling Stones, '70s superstars including Elton John and David Bowie and modern-era rockers from AC/DC to Judas Priest. Even Elvis Presley did a version of "Too Much Monkey Business," creating a direct musical link between the genre's two most important early figures. Here's a look back at the history of classic rock Chuck Berry cover songs.
The Beatles
"Roll Over Beethoven" (1963)
Two of the first pebbles in an avalanche of next-generation Berry references came from the Beatles, who offered the John Lennon-sung "Rock and Roll Music," and "Roll Over Beethoven," an early showcase for George Harrison. The latter was originally part of their 1963 album With the Beatles, but Capitol Records instead made "Roll Over Beethoven" the lead-off track on the U.S.-only Beatles' Second Album, released six months later.
The Beach Boys' "Surfin' U.S.A." bears a striking resemblance to an earlier Berry song, "Sweet Little Sixteen." Berry ended up suing, and earned a shared songwriting credit. "I just took 'Sweet Little Sixteen' and rewrote it into something of our own," Wilson later admitted in an interview with the Los Angeles Times.
The Rolling Stones copped to Chuck Berry's towering influence from the start: Their debut single was a Berry cover: "Come On." The Stones also covered "Carol" on their self-titled 1964 debut album, then included both "Carol" and "Little Queenie" on Get Yer Ya-Ya's Out!, 1970's classic live LP.
The Animals
"Around and Around" (1964)
The Animals recorded a number of Berry songs, including "Memphis, Tennessee," "Sweet Little Sixteen," "Too Much Monkey Business" and, perhaps their best effort, "Around and Around." Dave Davies also took over the mic for "Beautiful Delilah," released on the Kinks' self-titled 1964 debut. This sudden interest from U.K. bands led to a 1964 reissue of Berry's original material from Chess titled St. Louis to Liverpool.
The Yardbirds
"Too Much Monkey Business" (1964)
The Yardbirds opened their legendary 1964 appearance at the Marquee Club by playing "Too Much Monkey Business," as heard on the titanic Five Live Yardbirds. A youthful Eric Clapton is given the opportunity to take not one but two scorching solos.
Into the '70s, Duane Allman could be found taping a blues-drenched update of "No Money Down" while working at Muscle Shoals – though this gem didn't see release until after his death, on 1974's Anthology Vol. II. Elsewhere, the Faces recorded "Memphis" for 1971's A Nod's As Good As a Wink … to a Blind Horse. Jimi Hendrix also tore through "Johnny B. Goode" in a rendition that became a hit after it was released posthumously on 1972's Hendrix in the West.
David Bowie
"Around and Around" (1971)
Bowie totally glammed up his slightly renamed update of "Around and Around," and made the song a set-list staple. It remained unreleased, however, until arriving as a B-side to a single from Aladdin Sane in 1973. Meanwhile, Bob Weir had already begun voicing Berry tunes as part of the Grateful Dead's mammoth shows, including "The Promised Land," "Johnny B. Goode" and, yes, "Around and Around."
Electric Light Orchestra
"Roll Over Beethoven" (1973)
The Electric Light Orchestra, a group that rose to fame fusing rock and classical, quite appropriately covered "Roll Over Beethoven" in the early '70s. That followed Mountain's take on "Johnny B. Goode," and a rousing version of "Maybellene" from Foghat's debut album.
The Band also regularly tipped their collective hats to Chuck Berry. They memorably reworked "The Promised Land" on Moondog Matinee, a 1973 covers album; those sessions also included "Back to Memphis," which would go on to make regular appearances in concerts led by Levon Helm.
Who better to roar through "School Days," Berry's ageless classroom lament, than AC/DC? Schoolboy uniform-wearing leader Angus Young included the track on 1975's Australia-only T.N.T. That same year, John Lennon returned to Berry's catalog on Rock 'n' Roll, covering "You Can't Catch Me" – a song that provided lyrical inspiration for the Beatles' earlier hit "Come Together." Humble Pie did "Rock and Roll Music" too.
Not every cover worked. Elton John's Victim of Love, a dated disco mishap from 1979, includes his frankly bizarre version of "Johnny B. Goode." The Sex Pistols also produced their own desultory update, too. But Linda Ronstadt actually charted higher than Berry did with her 1978 take on "Back in the U.S.A.," eight years after proto-punks MC5 made it the title track of their second album.
Judas Priest's grandiose cover of "Johnny B. Goode," originally recorded for a Anthony Michael Hall film of the same name, later charted after its inclusion on 1988's gold-selling Ram It Down. Guitarist Richie Faulkner paid tribute when Berry died in 2017, calling him "a true rock 'n' roll master" and "a writer of the rule book from which we all follow."
Motorhead regularly returned to Berry's "Let It Rock," giving it a grungy new attitude during performances like this one from 1991 on David Letterman's show. Lemmy Kilmister's side project the Head Cat released a studio version too, on 2011's Walk the Walk … Talk the Talk.
Paul McCartney
"Brown Eyed Handsome Man" (1999)
Paul McCartney continued the Beatles' lengthy association with Berry into the '90s, including a Cajun-inflected take on "Brown Eyed Handsome Man" on 1999's Run Devil Run. He later described Berry as "one of rock 'n' roll's greatest poets."
Best of Ultimate Classic Rock