Top 10 Breast Songs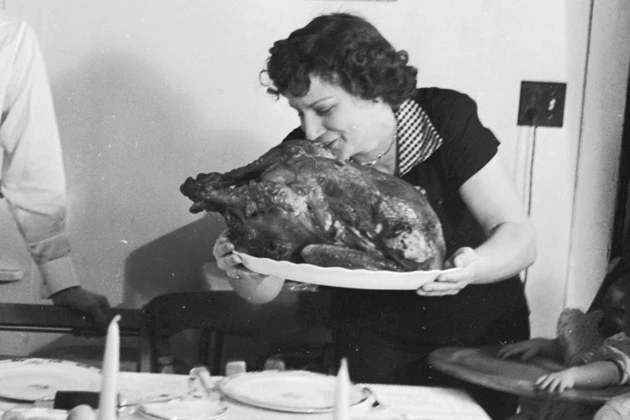 Everybody knows that the best rock 'n' roll is inspired by sex. Therefore, it's only natural that there would be a lot of songs written about the sexier parts of the human body. We already took a long look at Leg Songs, and now we're turning our gaze north – as respectfully and discreetly as possible – to examine the Top 10 Breast Songs. Just don't stare too long, OK?
From: 'Night Moves' (1976)
Think Bob Seger, Mr. "Old Time Rock and Roll" himself,  is too pure and good-natured to be on this list? Well, then which attributes of a woman's body do you think he's talking about in "Night Moves" when he sings, "She was a black haired beauty with big dark eyes / And points all her own sitting way up high / Way up firm and high?"
'Big Titties (I Want a Woman With)'
From: 'The Black Attack is Back' (1986)
We tried to ease into things a bit, but clearly all subtlety is out the window now, as Black Oak Arkansas drool all over themselves while explaining their preferences regarding the female anatomy. Say what you will about their tact, at least there's no wondering what's on their minds. Oh, and if you didn't understand exactly what ZZ Top were singing about in "Pearl Necklace," BOA are here to help out with that too. Also, it features the greatest parenthetical aside in a song. Ever.
Thanks to some combination of cheeky wit and that always-charming British accent, Rod Stewart and the Faces somehow get away with spending all four minutes of this breast song basically accusing a woman of having her chest enlarged. "Well, I might've guessed / You been to see a specialist … Don't try and tell me it's a what you been eating / Since when have you been 44″ around the [chest]?," he asks, before deciding to let bygones be bygones and conducting his own post-operation examination.
From: 'Zappa in New York' (1978)
In a unique spin on the "selling your soul" storyline, Frank Zappa here portrays a man so focused on getting his kidnapped big-chested girlfriend and beverage of choice back that he actually freaks out the devil, who comes to realize this is one soul he doesn't want captured for all of eternity. There's two other Zappa breast songs you may wanna check out: "Wet T-Shirt Nite" and "Jewish Princess," which finds our hero in search of a "Dainty little Jewish princess with titanic tits and sandblasted zits." 
From: 'Ready to Die' (2013)
He's never been what you'd call shy, and after four decades of making records, Iggy Pop has clearly decided there's absolutely no point in mincing words when it comes to expressing what he's looking for in a woman. Doesn't matter if they're real or fake, he's just happy when he's looking at those DDs, and even happier to be touching them. After all, "You need sex or your life is going to stink."
From: 'Indiscreet' (1975)
Despite the snicker-inducing title, this breast song is actually quite the heartbreaker. A man takes his friend to a bar, bemoaning the loss of romance in his life now that his wife's more focused on feeding their child. Or as he puts it, "Tits were once a source of fun and games at home / And now she says tits are only there to feed our little Joe." But wait, things get worse: Turns out someone else is actually having the fun and games our protagonist is missing out on …
From: 'Let There Be Rock' (1977)
Obviously not a believer in the "less is more" school of thought, Bon Scott spends the last song on perhaps his greatest album with AC/DC singing the praises of dear Rosie. Her inflatable form dominates their stage set every time the group plays the song live to this day, leaving no doubt exactly what they found so special about her. Of course the "Forty-two, thirty-nine, fifty-six / You could say she's got it all" line is more famous, but we've always been partial to "Ain't no fairy story / Ain't no skin and bone / But you give it all you got / Weighing in at nineteen stone."
From: 'Tattoo You' (1981)
Although it seems pretty clear that the woman Keith Richards of the Rolling Stones is out on the town with is soon to be more trouble than she's worth – what with all the snitching, bitching and name-dropping – for the next few hours at least he seems to have decided that "She's my little rock n' roll / My tits and ass with soul baby."
From: 'The Who by Numbers' (1975)
Obviously if this Who hit is on our list of the best breast songs, it's not really about how well "mama" can play the accordion. So how do we put explain things without getting too graphic? How about … there's more than one way to cross the finish line when it comes to fooling around, and this guy's favorite method involves his wife's bosom, OK? Now let's enjoy some belly dancing!
From: 'You Bought It – You Name It' (1983)
Here it is – the least subtle classic-rock acronym this side of Van Halen's 'For Unlawful Carnal Knowledge,' and a clear choice for the top spot on our list of the best Breast Songs. In fact, whether it's breakfast, lunch or dinner, the biggest dilemma that Eagles, James Gang and solo star Joe Walsh faces as he enjoys the flesh on parade around his hometown is picking his favorite. After all, as the tune's masterful rhyme explains, "they come in twos" and it's "hard to choose."
Best of Ultimate Classic Rock