Bob Dylan Debuted 'Blowin' in the Wind' 50 Years Ago Today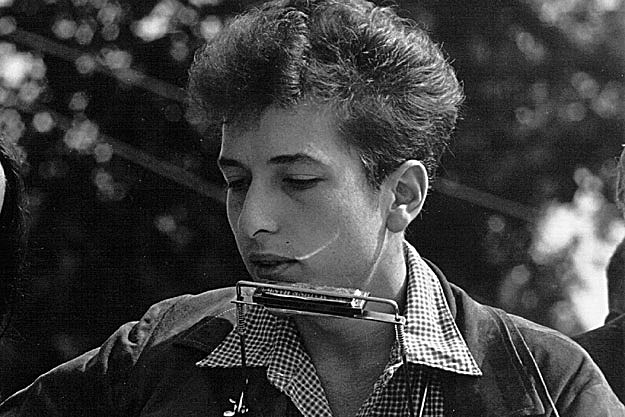 Allow us to set the scene. It's the spring of 1962, you're at Gerde's Folk City in Greenwich Village listening to a young troubadour named Bob Dylan. He throws out a song he's still working on. It's called 'Blowin' in the Wind.' You and everyone there are hearing it for the first time. It stops you and everyone else in their tracks.  Well, that's exactly what happened fifty years ago today, April 16.
In its first draft, the song only had two verses, but within a few days of this public debut, he would add the iconic third verse that begins "how many years can a mountain exist," raising the stakes of the song even higher. The track was based on the Negro spiritual 'No More Auction Block,' a song Dylan had included in his repertoire. In fact, a version of which, recorded at Gerdes, was included on his first 'Bootleg Series' box set.
Though not issued on vinyl until his second album, 'The Freewheelin' Bob Dylan,' in the spring of 1963, Dylan would first publish the song in an issue of the folk magazine 'Sing Out' in mid-1962, saying "There ain't too much I can say about this song except that the answer is blowing in the wind. It ain't in no book or movie or TV show or discussion group. Man, it's in the wind, and it's blowing in the wind. Too many of these hip people are telling me where the answer is but oh I won't believe that. I still say that some of the biggest criminals are those that turn their heads away when they see wrong and know it's wrong. I'm only 21 years old and I know that there's been too many. You people over 21, you're older and smarter."
The song became the soundtrack to the civil rights movement and would propel Dylan into the eye of the storm with the unwanted tag of "spokesman of a generation." He would soon enough dismiss the label and, much to the chagrin of the folk elite, move on very quickly past the protest box and create a much different Bob Dylan.
Best of Ultimate Classic Rock