Black Sabbath Lineup Changes: A Complete Guide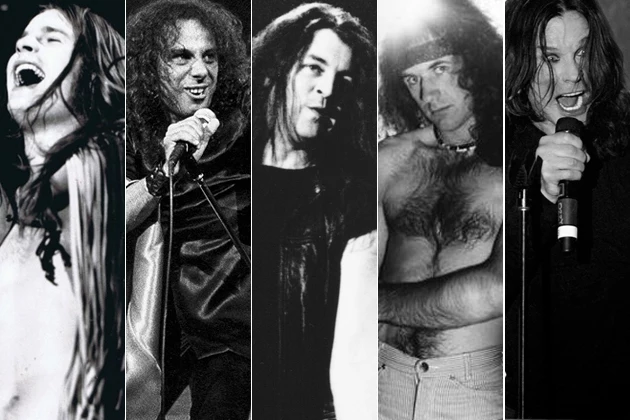 Rock and roll never dies, but as any fan can tell you, band lineups are a lot less permanent — and for groups that have been together for decades, the personnel shifts can be hard to keep track of. With that in mind, we've decided to take a band-by-band look at the ins and outs of some of our favorite acts' rosters, pausing to sample the music along the way.
For this installment, we're taking a look at the metal pioneers Black Sabbath — partly because we're all blasting their '13' album this week, and partly because they've had a lot of lineup changes over the last four decades and change; in fact, guitarist Tony Iommi is the only band member who appears on every Sabbath record (so far). Sit back and make yourself comfortable, because we've got a long ride ahead.
1969-77: Tony Iommi / Bill Ward / Geezer Butler / Ozzy Osbourne
Sticking together after the breakup of an earlier band, guitarist Tony Iommi and drummer Bill Ward joined up with bassist Geezer Butler and vocalist Ozzy Osbourne to form a group they initially called the Polka Tulk Blues Band. Eventually settling on Black Sabbath after noticing a crowded matinee showing of the Boris Karloff movie of the same name, the group secured a minimal advance from Vertigo Records and recorded its debut album in a single day — then watched its heavy blues-influenced arrangements and dark lyrics strike an immediate chord with audiences around the world. After scoring a platinum hit with 1970's 'Black Sabbath' LP, the band embarked on a decade defined as much by its success as it was by its excess; as their record sales grew, so did the members' struggles with substance abuse, which eventually made it difficult to write, perform, or get along. But even as their personal problems loomed, Sabbath continued to release a string of bestselling, heavily influential records, including 1971's 'Paranoid' and 1973's 'Sabbath Bloody Sabbath.'
1978: Tony Iommi / Bill Ward / Geezer Butler / Dave Walker
Chafing under the band's constraints and hoping to launch a solo career, Osbourne quit Sabbath in November 1977, forcing Butler, Iommi, and Ward to find a new singer just as they were scheduled to re-enter the studio. They quickly selected Fleetwood Mac veteran Dave Walker, who made his first (and last) appearance with Black Sabbath in January 1978.
1978-79: Tony Iommi / Bill Ward / Geezer Butler / Ozzy Osbourne
After a few months out of the band, Osbourne decided to pull the plug on his solo project and return to Sabbath, ending Walker's brief tenure with the group and leading to the release of 1979's 'Never Say Die!.' Osbourne's refusal to sing any of the songs the band had written with Walker necessitated a lot of heavy writing during a period when none of the band members were firing on all creative cylinders, and the result was one of Sabbath's less commercially successful outings — not to mention their last studio release with Osbourne for over three decades.
1979-80: Tony Iommi / Bill Ward / Geezer Butler / Ronnie James Dio
After spending an extended period fruitlessly trying to come up with ideas for their next record, the band parted ways with Osbourne, hiring new vocalist Ronnie James Dio for what would become the 'Heaven and Hell' sessions. But while Osbourne's inability to function due to substance abuse had been a factor in his termination, he was far from the only member of Sabbath who'd lost touch with his muse; in fact, bassist Geezer Butler missed a major portion of the recording sessions and was nearly replaced with Geoff Nicholls (who ultimately became the band's longtime keyboard player) and/or former Rainbow bassist Craig Gruber. Still, in spite of all the behind-the-scenes turmoil, 'Heaven and Hell' proved a commercial comeback for the band, breaking the Top 40 and quickly going gold.
1980-82: Tony Iommi / Geezer Butler / Ronnie James Dio / Vinny Appice
Following the release of 'Heaven and Hell,' Ward was the next to go, quitting during the subsequent promotional tour. He was replaced by drummer Vinny Appice, who stuck around long enough to contribute to the group's tenth album, 1981's 'Mob Rules,' and the live LP spun off from the tour, 'Live Evil.' But by the time 'Evil' came out in December of 1982, Dio had already quit over personal conflicts with Iommi and Butler, taking Appice with him to start his own band.
1982-83: Tony Iommi / Geezer Butler / Bill Ward / Ian Gillan
With Ward getting sober and Dio and Appice out of the lineup, Iommi and Butler decided to forge ahead with a new singer and a new band name — although ultimately, label pressure to continue under the Black Sabbath banner meant they only managed to get as far as finding a new vocalist: former Deep Purple frontman Ian Gillan, who joined the group for the sessions that produced 1983's 'Born Again' album. The latest change was too much for some critics and fans, but the record was enough of a hit to break the American Top 40 and spawn a worldwide tour — although Ward left before the band hit the road, replaced by ex-ELO drummer Bev Bevan, and by the time the tour was over, Gillan quit to rejoin Deep Purple, leaving Sabbath at loose ends once more.
1984: Tony Iommi / Geezer Butler / David Donato
Following Gillan's exit, Iommi and Butler recruited unknown singer David Donato to front the next incarnation of Sabbath, and spent most of 1984 writing and recording — but by the end of the year, Butler quit too, and Iommi decided to put the band on hiatus to pursue a solo career.
1985: Tony Iommi / Geezer Butler / Bill Ward / Ozzy Osbourne
While Iommi started work on a solo project with Sabbath keyboard player Geoff Nicholls and a revolving cast of vocalists and session players, the original lineup was asked to reform for Live Aid's Philadelphia show; they agreed, sharing a stage for the first time since 1978. While it didn't lead to a lasting reunion, it did offer longtime fans a fleeting reminder of what made them love Black Sabbath in the first place.
1986: Tony Iommi / Glenn Hughes / Dave Spitz / Eric Singer / Geoff Nicholls
Black Sabbath re-emerged in 1986 with the 'Seventh Star' album, which boasted a slicker, more radio-friendly sound that didn't have much in common with the Sabbath fans remembered — and for good reason, as it was originally intended to mark Iommi's solo debut. Pressured by the label to revive the Sabbath brand, Iommi credited 'Seventh Star' to 'Black Sabbath featuring Tony Iommi,' but that didn't help soothe annoyed fans — or keep new vocalist Glenn Hughes from leaving the band on the eve of the tour, forcing Iommi to find a last-minute replacement with yet another new vocalist, Ray Gillen. Needless to say, all the turbulence didn't help record or ticket sales.
1986-87: Tony Iommi / Eric Singer / Bob Daisley / Geoff Nicholls / Tony Martin
If things seemed bumpy for Black Sabbath during the 'Seventh Star' era, they looked positively bleak during the months leading up to the release of 1987's 'The Eternal Idol.' Bassist Dave Spitz was the first to go, replaced by Rainbow vet Bob Daisley; after re-recording Spitz's tracks (and writing a fair number of lyrics for the album), Daisley quit too, and took drummer Eric Singer with him. Meanwhile, producers Jeff Glixman and Vic Coppersmith-Heaven also left the project — followed by Gillen, who was in turn replaced by former Alliance vocalist Tony Martin. (Somewhere in the midst of all this coming and going, Bevan returned to the fold long enough to contribute a few cymbal overdubs). 'The Eternal Idol' obviously didn't capture Sabbath at a creative peak, but it's at least noteworthy for marking the first appearance of Martin, who'd bring some much-needed stability to Sabbath's lead singer position over the following decade.
1988-89: Tony Iommi / Geoff Nicholls / Tony Martin / Cozy Powell / Laurence Cottle
After 'The Eternal Idol' tanked, Iommi and Martin started largely from scratch, keeping Nicholls in the lineup and drafting a pair of session players to round out the rhythm section (Laurence Cottle on bass; the legendary Cozy Powell on drums). The end result, 1989's 'Headless Cross' LP, was another poor seller for the band — a situation not helped by distribution problems with their new label, IRS Records — and the promotional tour, featuring new bassist Neil Murray, had to be canceled after only a handful of dates.
1990: Tony Iommi / Geoff Nicholls / Tony Martin / Cozy Powell / Neil Murray
In a rare display of consistency for this era of Sabbath, the lineup that toured behind 'Headless Cross' stayed intact for the follow-up, 1990's 'Tyr.' In spite of the relative harmony behind the scenes — and the inclusion of the power ballad single 'Feels Good to Me' — 'Tyr' didn't spark an upswing in the band's commercial fortunes, failing to crack the Billboard Top 200 albums chart and moving a relative handful of units in Europe. After Sabbath were forced to cut another tour short due to poor ticket sales, it was obvious something needed to change.
1990-92: Tony Iommi / Geezer Butler / Ronnie James Dio / Vinny Appice
In the late summer of 1990, Geezer Butler joined Ronnie James Dio onstage during one of Dio's concerts, sparking talk of a 'Mob Rules'-era Sabbath reunion — and in due time, that's what happened, with Iommi firing Martin and Murray and entering the studio to record what would become 'Dehumanizer' with Dio and Cozy Powell. However, in a sign of the troubles that would soon plague the project, Powell broke his pelvis after a horse landed on him; although he was quickly replaced by Vinny Appice, that wasn't the end of the bumps and delays for the album, which found Iommi and Dio clashing over creative concerns. Finally released in the late summer of 1992, 'Dehumanizer' returned Sabbath to the charts in the U.S., spawning the hit single 'TV Crimes' and heralding a successful world tour. It all came crashing down, however, when the band accepted an opening slot for a pair of Osbourne's first 'retirement' tour, and Dio quit — temporarily replaced for the gigs by then-former Judas Priest frontman Rob Halford.
1993-94: Tony Iommi / Geezer Butler / Tony Martin / Geoff Nicholls / Bobby Rondinelli
Following the Osbourne shows, talk began of a reunion tour for the original Sabbath lineup; in the meantime, Iommi and Butler returned to the studio with drummer Bobby Rondinelli, stalwart keyboard player Geoff Nicholls, and a re-hired Martin. Although it supposedly wasn't intended to be a Sabbath record, by the time 'Cross Purposes' came out in 1994, things had changed — and changed again on the charts, where the record suffered the same middling-to-poor commercial fate as every other Martin-led Sabbath release.
1994-95: Tony Iommi / Cozy Powell / Neil Murray / Geoff Nicholls / Tony Martin
The 'Cross Purposes' tour, like most late-period Sabbath tours, had its share of turmoil; Rondinelli quit, to be replaced by Bill Ward — and then when the tour ended, Butler quit, followed by Ward. Apparently undaunted, Iommi recruited former members Cozy Powell and Neil Murray to round out the lineup for 1995's 'Forbidden,' produced by Body Count guitarist Ernie C. The album failed to chart in North America or the U.K., Powell left during the tour (replaced by Rondinelli), and by the end of 1995, Iommi had put Sabbath on hiatus — setting the stage for an official reunion of the original lineup.
1997-2006: Tony Iommi / Bill Ward / Geezer Butler / Ozzy Osbourne
It took five years to make it happen, but in 1997, the original Sabbath lineup finally reconvened to follow the 1992 reunion shows with a full-length tour, which was duly commemorated with the 1998 double live album 'Reunion.' Although their attempt at recording a new album in 2001 came to naught, the band became a semi-regular fixture on the live circuit over the following nine years — a period during which it sometimes seemed like Osbourne's burgeoning career as a reality television star was one of the main things holding them back from a full-fledged reunion. In due time, another face from Sabbath's past would resurface, throwing the band's long-term future into doubt.
2006-10: Tony Iommi / Geezer Butler / Ronnie James Dio / Vinny Appice
This entry isn't so much a lineup change as an interlude, but it's worth noting because it involves a direct return to one of Sabbath's many previous lineups — specifically, the one from 'Heaven & Hell,' which included Iommi, Butler, drummer Vinny Appice, and singer Ronnie James Dio. After coming together again to record a few new songs for a Dio-era compilation, the quartet decided to go ahead and record a brand new LP and schedule a tour — and although they branded themselves as Heaven & Hell, drawing a careful distinction between the new band and Sabbath (which still officially included Osbourne and Ward), they still had to contend with a lawsuit from Osbourne, who accused Iommi of illegally appropriating the Sabbath name.
2011- : Tony Iommi / Geezer Butler / Ozzy Osbourne
In May of 2010, Dio's death from stomach cancer put an end to Heaven & Hell; the following month, Osbourne settled his lawsuit with Iommi, paving the way for another reunion. In November 2011, the original lineup announced they'd be recording a new album and going out on a new world tour — but no sooner had fans started celebrating than things started to go sour yet again, with Ward claiming he'd been offered an unsatisfactory contract. The band carried on without him, recording '13' with Brad Wilk sitting in on drums, and right now it looks like there's little chance of Iommi, Butler, and Osbourne welcoming him back into the fold — but who knows? With this band, only two things are constant: Iommi and change.
Best of Ultimate Classic Rock