How Corporate Sponsorship Cost the Black Crowes a Tour With ZZ Top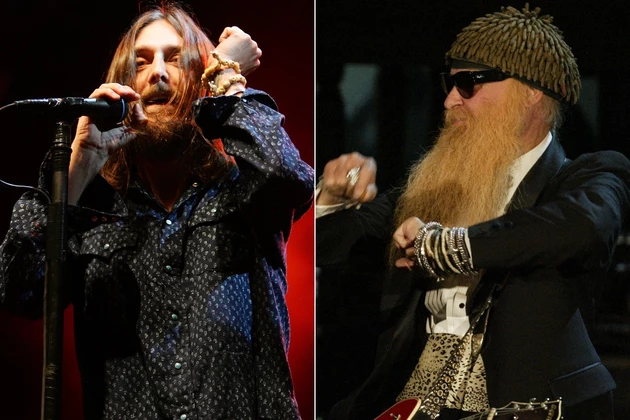 The Black Crowes were a young band on the rise in early 1991, with a hit debut record and a plum slot opening for ZZ Top. Their sales continued to climb throughout the year, but the tour didn't go as well — they were fired just a few dates in.
According to the Crowes, ZZ Top's reasons for kicking them off the tour had nothing to do with music. Speaking with Rockline shortly after their March 25 dismissal — two nights into what had been scheduled as a three-night homecoming stand at Atlanta's Omni Coliseum — brothers Chris and Rich Robinson told their side of the story, accusing Top manager Bill Ham of siding with tour sponsor Miller Brewing in a dispute over comments Chris made from the stage.
As the Robinsons told it, Miller took issue with Robinson's habit of telling the audience their set was "live rock 'n' roll being brought to you commercial free" — part of a regular rant about the current state of music that, as Chris later insisted to Rolling Stone, had less to do with tour sponsorship than it did with modern American culture as a whole. "I'd point out to people that this is real, in the flesh," he argued. "It's rock 'n' roll, they're not watching TV, and there's not going to be any commercials."
Which is not to say that the Crowes were unaware that Miller had a problem with Chris's comments, or that they were willing to alter his between-song patter even after allegedly being ordered to do so. In fact, as Rich Robinson told Q later in the year, they essentially dared Miller to kick them off the tour.
"Miller said, 'You don't say that, and if you do, we'll throw you off the tour.' We said. 'Hey, we don't have a contract with you. We thought we were going on tour with ZZ. If you wanna throw us off, throw us off.' And they did," said Robinson. "Miller faxed ZZ, saying, 'Get rid of them, we don't want this press.' ZZ had no idea themselves; it was their manager Bill Ham. He sees Miller giving them millions of dollars, and then sees those millions being pulled away if he doesn't do something. So we were thrown off the second week of a tour supposed to last for three months."
The Crowes' dismissal was front-page news in the Atlanta papers, and the story quickly took on a life of its own, becoming a substantial part of a Rolling Stone profile on the band and getting picked up by the newswire services along the way. If Robinson's comments were a source of irritation for Miller, the fallout from the firing proved every bit as annoying for ZZ Top's management, who tried in vain to quell the story by issuing a terse press release that alluded to the issues without directly admitting anything one way or the other.
"This decision was arrived at entirely within this organization and not as has been suggested as a result of corporate pressure," read the band's statement. "Miller Brewing has been a partner in this tour since its inception and has been very accommodating to ZZ Top and has asked absolutely nothing of the opening acts which have appeared. It is out of a sense of common decency and courtesy coupled with a moral and ethical obligation that this action has been taken."
If the tour's premature end opened a costly hole in their touring plans over the short run, it was arguably worth more in the way it helped bolster their anti-establishment image. At a time when corporate tour sponsorships were still seen as something of a sellout move, the Crowes scored points for standing up for old-fashioned rock 'n' roll. As Chris put it during his Rockline interview, "We're not sponsored by anyone. We're the Black Crowes. We feel it's important to be able to say whatever you want."
In the end, both bands walked away unscathed — ZZ Top continued touring behind their platinum-selling Recycler LP, which cracked the Top 10, and the Crowes eventually returned to the road in support of Shake Your Money Maker, which peaked at No. 4 on its way to five million in sales. Shrugging it off in conversation with Q, Chris chalked the disagreement up to a generational divide. "I'm 24 years old, and this is the first year I've been doing it. We're still angry and we're still sexy and we're still dangerous and still trying to prove something. When I'm ZZ Top's age, I'm sure there'll be different things in my life."
ZZ Top Albums Ranked Worst to Best
Best of Ultimate Classic Rock