The Story Behind the Cover of the Beatles' 'Revolver'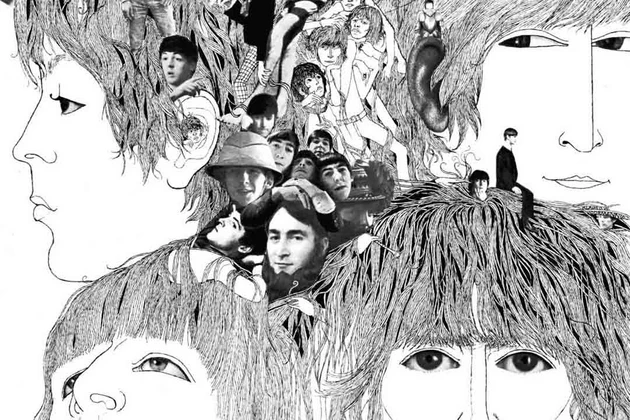 The Beatles' Revolver, one of the earliest albums of the psychedelic era, debuted in the U.K. on Aug. 5, 1966; its U.S. release came three days later. To design the cover, the band recruited Klaus Voormann, a friend from their Hamburg days. Voormann's spacey collage of drawings and photos complemented songs that reflected the Beatles' LSD experiments during its production.
"We knew he drew and he'd been involved in graphic design," recalled Paul McCartney in Anthology. "I must admit we didn't really know what he did, but he'd been to college. We knew he must be all right, and so we said, 'Why don't you come up with something for the album cover?'"
Voormann told The Guardian that John Lennon approached him during the recording of Revolver: "He just said, 'Got any ideas for our new album cover?' I thought,: 'S—! Doing a cover for the most famous band in the world!' At moments like that, you could suddenly forget that they had once been scruffy little Liverpool boys. I thought, 'My God, I can't do that!'"
The Beatles invited Voormann to the Abbey Road studio for a preview of what they'd recorded. "When I heard the music, I was just shocked, it was so great," he said. "So amazing. But it was frightening because the last song that they played to me was 'Tomorrow Never Knows.'"
The lyrics of "Tomorrow Never Knows," Revolver's final track, were adapted from Timothy Leary's book The Psychedelic Experience: A Manual Based on the Tibetan Book of the Dead. The use of tape loops, backward recordings and Ringo Starr's hypnotic drumming helped create the psychedelic vibe – and influenced Voormann's cover art.
"'Tomorrow Never Knows' was so far away from the early Beatles stuff that even I myself thought, 'Well, the normal kind of Beatles fan won't want to buy this record,'" Voormann recalled. "But they did."
Voormann, who'd moved to London, worked for three weeks in his tiny attic apartment. He used pen and black ink to create four large line drawings of the Beatles. He then combined the drawings with a collage of black and white photos taken by Bob Whitaker, who'd shot the infamous "Butcher Cover" for the Beatles' Yesterday and Today LP. Voormann also included personal photos contributed by the band.
"In choosing to work in black and white, I wanted not only to shock, but I wanted also for the work to stand out in a muddle of color," he noted.
"We were all very pleased with it," said McCartney. "We liked the way there were little things coming out of people's ears, and how he'd collaged things on a small scale while the drawings were on a big scale. He also knew us well enough to capture us rather beautifully in the drawings. We were flattered."
Voormann's work on Revolver earned him a Grammy for Best Album Cover, but it hardly made him rich. Voormann said the Beatles' record company paid him only about 50 pounds, roughly $140 U.S., in 1966. "I would have done it for nothing – and I didn't feel I was in a position to make it hard for them, by saying, 'You have to pay me this or that much,'" he said. "They said 50 pounds is the absolute limit for a record sleeve. That's what I got."
Beatles Albums Ranked Worst to Best
Best of Ultimate Classic Rock