UPDATED: New Rumors Surface Regarding Axl Rose's AC/DC Gig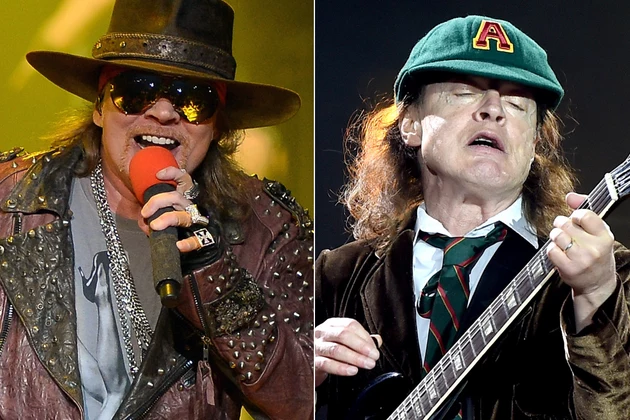 AC/DC's representatives have responded to rumors suggesting that Guns N' Roses frontman Axl Rose will join the group as a guest singer, neither denying nor confirming the story, but instead telling NME they have "nothing official to announce."
UPDATE: Other members of the band's extended camps, however, are apparently confirming the persistent speculation. Ross Young, son of retired AC/DC co-founder Malcolm Young, reportedly posted – then deleted – a pair of Facebook comments saying, "it's true" and "he can and he will," according to NME. Meanwhile, Tommy Stinson – a late-era bassist with Guns N' Roses – seems to be congratulating Rose on having already gotten the job. "Atta boy!" he says in a new Facebook post. "Go show the kids how it's done!"
There are few figures in rock surrounded by more innuendo than Rose, so perhaps it's to be expected that his name would come up in the rumor mill concerning a new singer for the legendary Australian band.
Singer Brian Johnson's hearing problems were blamed for the postponement of the remainder of AC/DC's U.S. tour recently, though the band suggested it would continue with a "special guest" replacement singer.
Still, how did we get around to the idea of Rose filling that position? Credit a DJ at Rock 100.5 in Atlanta, where Rose was recently spotted.
"This is what I'm being told: Axl was meeting with the AC/DC group – because it's all but a done deal that Axl will front AC/DC for the 10 remaining shows. All 10, including Atlanta," said Jason Bailey (via Alternative Nation).
Guns N' Roses covered AC/DC's "Whole Lotta Rosie" in concert several times on their most recent tour, so you can get some idea of how this might work. A stumbling block would surely be scheduling. Rose is already taking part in a series of GNR reunion shows with former bandmates Slash and Duff McKagan this spring. (The first are set for the weekend of April 8.)
Bailey said AC/DC were in Atlanta – site of the group's first postponed show – in order to audition people for Johnson's job, "and then they flew Axl in. Again, this is from my source." Rose's visit to Atlanta, however, found him reportedly telling one fan that Guns N' Roses were planning to mount a lengthy tour.
Every Guns N' Roses Song Ranked
Best of Ultimate Classic Rock