2016 New Music Releases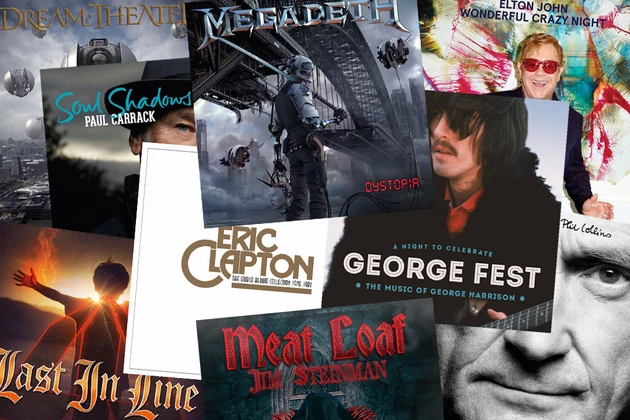 David Bowie's latest career twist kicks off our list of 2016 New Music Releases with a bang. Blackstar finds rock's most celebrated chameleon entering yet another new phase, one influenced by such genre-jumping sounds as jazz and hip-hop (Kendrick Lamar reportedly is a chief inspiration).
Meanwhile, Dream Theater are promising a sprawling new concept album, and Megadeth return with a rebuilt lineup. Elton John releases his first album of new music since 2013's The Diving Board, while Last in Line – featuring a group of former Dio sidemen – make their long-awaited recording debut.
The year will also bring a number of notable reissues, beginning with a box set devoted to Tommy Bolin (from Deep Purple) then continuing with Phil Collins and Rush, among others. Of particular interest are releases from Black Sabbath and Eric Clapton, both of whom are giving their best albums another look.
You'll find all the dates for 2016's new music releases below. Click on the highlighted titles below to get more information on each album, book or video. We'll keep updating this list throughout the year, so be sure to check back frequently.
January 8
Tommy Bolin, The Ultimate: Redux (box set)
David Bowie, Blackstar
The Law [Paul Rodgers and Kenney Jones], The Law (reissue)
January 15
Pearl Jam, Chicago 1995
Rush, Feedback + Snakes & Arrows (reissues)
January 22
Megadeth, Dystopia
Black Sabbath, Black Sabbath; Paranoid + Master of Reality (deluxe edition reissues)
January 29
Dream Theater, The Astonishing
Eric Clapton, The Studio Album Collection 1970-1981
Phil Collins, Face Value: Deluxe Edition; Both Sides: Deluxe Edition; Take a Look at Me Now: Collector's Edition
Tedeschi Trucks Band, Let Me Get By
February 5
Alice Cooper, Rick Wakeman, London Orion Orchestra + others, Pink Floyd's 'Wish You Were Here' Symphonic
The Cult, Hidden City
Elton John, Wonderful Crazy Night
Grateful Dead, Dick's Picks Vol. 2 Columbus, Ohio 10/31/71
Johnny Winter, Live Bootleg Series Vol. 12
Slash – Raised on the Sunset Strip (DVD)
February 12
The Allman Brothers Band, Crackdown Concert 1986
Bruce Springsteen – Roxy Night 1978: The Classic Los Angeles Broadcast
Crosby Stills and Nash, Survival Sunday: Hollywood Bowl 1980 with Joe Walsh
Paul Carrack [Squeeze, Mike + the Mechanics], Soul Shadows
February 19
Last in Line, Heavy Crown
Rick Springfield, Rocket Science
February 26
Anthrax, For All Kings
Brian Wilson, Heart's Ann Wilson, Perry Farrell + others, George Fest: A Night to Celebrate the Music of George Harrison
Peter Frampton, Acoustic Classics
Phil Collins, I Must Be Going!; Dance Into the Light (reissues)
Todd Rundgren, The Complete Bearsville Albums Collection
Various artists including Robert Plant, The Long Road
March 4
Bobby Whitlock [Derek and the Dominos], One of a Kind; Rock Your Sox Off (reissues)
Boz Scaggs, Moments (deluxe edition)
Tony Banks [Genesis], A Curious Feeling; The Fugitive (reissues)
March 11
The Cars, The Elektra Years 1978-1987
Dave Mason [Traffic, Fleetwood Mac], The Columbia Years: The Definitive Anthology
Lynyrd Skynyrd, The Lost 1978 Broadcast
March 18
Iggy Pop – Post Pop Depression
Mötley Crüe, Too Fast For Love (reissue)
Todd Rundgren, Box O' Todd (live, 1971-73)
March 25
Judas Priest, Battle Cry (live CD/DVD)
Robin Trower, Where Are You Going To
Santana, Marathon: 30th Anniversary Edition
April 1
Cheap Trick, Bang Zoom Crazy … Hello
Derek and the Dominos, Layla; Derek and the Dominos in Concert (remastered reissues)
Todd Rundgren, Live at the Forum: London 1994
April 8
Deep Purple, Stormbringer; Come Taste the Band: 35th Anniversary Edition
Lynyrd Skynyrd, Pronounced 'Lĕh-'nérd 'Skin'nérd & Second Helping: Live From Jacksonville (DVD)
Motörhead, Hellfire: Recorded In Rio De Janeiro 2011 (DVD)
Peter Wolf, A Cure for Loneliness
Zakk Wylde, Book of Shadows II
April 15
Metallica, Kill 'Em All; Ride the Lightning: Deluxe Box Set
Santana – Santana IV
Ace Frehley, Origins Vol. 1
Lita Ford, Time Capsule
Graham Nash, This Path Tonight
Phil Collins, No Jacket Required; Testify: Deluxe Edition
Foghat, The Complete Bearsville Albums Collection
April 16 (Record Store Day 2016)
Exclusives
The Animals, Animal Tracks – Format: 10″ Vinyl
David Bowie, I Dig Everything – The Pye Years 1966 – Format: 12″ Vinyl
David Bowie, The Man Who Sold The World – Format: 12″ Picture Disc
David Bowie, "TVC15″ – Format: 7″ Picture Disc
Paul Butterfield Blues Band / Albert King, "Born Under a Bad Sign" – Format: 7″ Colored Vinyl
Cheap Trick, Found New Parts – Format: 10″ Vinyl
The Doors, "Roadhouse Blues (Live)"/"A Feast of Friends" – Format: 7″ Vinyl
The Doors, Live at the Aquarius: The First Performance – Format: 3 x LP
Bob Dylan, "Melancholy Mood" – Format: 7″ Colored Vinyl
Fleetwood Mac, (Alternative) Tusk – Format: 2 x LP
Grateful Dead, Capitol Theatre, Passaic NJ 4/25/77 – Format: 4 x LP
Iron Maiden, Empire of the Clouds – Format: 12″ Picture Disc
Jethro Tull, Too Old To Rock 'n' Roll: Too Young to Die! – Format: LP
Joan Jett and the Blackhearts, Sinner LP – Format: LP
The Kinks, "Mister Pleasant" – Format: 7″ Vinyl
The Kinks, Dave Davies Hits – Format: 7″ Vinyl
The Monkees, Classic Album Collection – Format: Vinyl Box Set
The Monkees, "Saturday's Child"/"You Just May Be The One" – Format: 7″ Picture Disc
Moody Blues, Moody Blues #1 – Format: LP
Mudcrutch, "Trailer"/"Beautiful World" – Format: 7″ Vinyl
Graham Nash, This Path Tonight – Format: LP
Tom Petty & The Heartbreakers, Kiss My Amps II – Format: LP
Sex Pistols, Never Mind The Bollocks Here's The Sex Pistols – Format: 12″ Picture Disc
Limited
The Move, Something Else By the Move – Format: 7″ Vinyl
The Runaways, The Runaways: Right Now/Black Leather – Format: 7″ Colored Vinyl
Todd Rundgren & Utopia, Disco Jets – Format: LP
The Turtles, "Happy Together" – Format: 7″ Colored Vinyl
Firsts
Cheap Trick, At Budokan: The Complete Concert – Format: 2 x LP
Creedence Clearwater Revival, 1969 Box Set – Format: Vinyl Box Set
Jimi Hendrix, Smash Hits – Format: LP
Iggy & The Stooges, METALLIC K.O. – Format: LP
Metallica, Liberté, Egalité, Fraternité, Metallica! – Live at Le Bataclan. Paris, France – June 11th, 2003 – Format: CD
Ramones, "Judy Is A Punk" – Format: 7″ Vinyl
Frank Zappa & The Mothers Of Invention, "My Guitar" / "Dog Breath" – Format: 7″ Colored Vinyl
April 22
Gordon Lightfoot, Songbook
Jethro Tull, Aqualung Box Set
Neil Young, Rust Never Sleeps; Human Highway: Director's Cut (DVD)
Rainbow, Monsters of Rock: Live at Donington 1980 (CD/DVD)
The Scorpions, Return to Forever: Tour Edition
April 29
Bad Company, Live in Concert 1977 & 1979
Boz Scaggs, Other Roads: Deluxe Edition
Brian Eno, The Ship
Cream, Classic Album Selection
Miles Nielsen [son of Cheap Trick's Rick Nielsen], Heavy Metal
Sixx: A.M., Prayers for the Damned Vol. 1
The Move, Move; Shazam: Expanded Deluxe Edition
Tremonti [with Wolfgang Van Halen], Dust
May 6
The Cars, Moving In Stereo: The Best of The Cars (vinyl)
Grateful Dead, Dick's Picks Volume One: Tampa, Florida 12/19/73
Hawkwind, The Machine Stops
Michael Schenker's Temple of Rock, On a Mission: Live in Madrid (DVD)
Rick Wakeman, The Six Wives of Henry VIII; Journey to the Centre of the Earth (deluxe reissues)
The Rides [featuring Stephen Stills], Pierced Arrow
May 13
Mark Knopfler, Altamira [with Evelyn Glennie]
May 20
Bob Dylan, Fallen Angels
David Bowie, Changesonebowie (vinyl)
Eric Clapton, I Still Do
Mudcrutch [Tom Petty], Mudcrutch 2
Various artists, Day of the Dead
May 27
Frank Zappa, Lumpy Money Project/Object, Road Tapes Venue #1 and Road Tapes Venue #2 (reissues)
Jim Breuer, Songs from the Garage [featuring Brian Johnson]
Motorhead, Clean Your Clock
June 3
The Cars, The Elektra Years 1978-1987 (vinyl set)
Delaney & Bonnie, To Bonnie From Delaney (reissue)
Edgar Winter, The Definitive Collection
Iron Butterfly, Fillmore East 1968 (reissue)
The Kinks, Everybody's in Show-Biz: Legacy Edition
Paul Simon, Stranger to Stranger
Pink Floyd, The Piper at the Gates of Dawn, A Saucerful of Secrets, More and Ummagumma (vinyl reissues)
Rolling Stones, Totally Stripped
Train, Does Led Zeppelin II
June 10
Beach Boys, Pet Sounds: 50th Anniversary Collectors Edition
Electric Light Orchestra, The Studio Albums 1973-1977
John Mellencamp, American Fool, Uh-Huh, Scarecrow, The Lonesome Jubilee (vinyl reissues); The Vinyl Collection 1982-1989
Paul McCartney, Pure McCartney
Phil Collins, … But Seriously: Deluxe Edition, The Essential Going Back: Deluxe Edition (reissues)
Motörhead, Clean Your Clock: Live in Munich 2015 (DVD/Blu-ray)
The Monkees, Good Times
Steve Porcaro [Toto], Someday / Somehow
Van Morrison, It's Too Late to Stop Now … Volumes II, III, IV & DVD
June 17
Chicago, Chicago Quadio Box
Neil Young, Earth
Red Hot Chili Peppers, The Getaway
The Who, Volume 4: The Polydor Singles 1975-2015
June 24
Bun E. Carlos, Welcome to Bunezuela!
Foghat, Under the Influence
Jon Anderson, Invention of Knowledge [with Roine Stolt]
Rich Robinson [The Black Crowes], Flux
Steve Hackett, The Total Experience Live in Liverpool (CD/DVD)
Steve Vai, Passion and Warfare (reissue)
July 1
David Bowie, I Dig Everything: The Pye Singles 1966
Survivor, The Definitive Collection
The Tubes, Young and Rich / Now (reissue)
Van Zant, Red White and Blue: Live
July 8
Circa [Yes' Billy Sherwood and Tony Kaye], Valley of the Windmill
David Bowie, 1. Outside, Earthling, Hours (reissues)
Heart, Beautiful Broken
Johnny Winter, Joe Jackson, Mitch Ryder, Ian Hunter, Stray Cats, UFO + others, Best of Rockpalast
July 15
Frank Zappa, For President; The Crux of the Biscuit
Jeff Beck, Loud Hailer
Peter Gabriel, So, Us and Up (vinyl reissues)
Steven Tyler, We're All Somebody From Somewhere
July 22
Allman Brothers Band, Vinyl Box Set (15 LPs)
Dio, A Decade of Dio: 1983-1993 (6 CDs)
Toto, Toto (bonus-track version)
Twisted Sister, Metal Meltdown (CD-DVD/Blu-ray)
July 29
Fleetwood Mac, Mirage (reissue)
Gary Wright, Ring of Changes [featuring George Harrison]
Ramones, Ramones (deluxe reissue)
Yes, Tales of Topographic Oceans (reissue)
Aug. 5
Blackfoot, Southern Native
Black Sabbath, Black Sabbath, Paranoid, Master of Reality, Vol. 4, Sabbath Bloody Sabbath, Sabotage, Technical Ecstasy and Never Say Die! (vinyl reissues)
Dead Daisies, Make Some Noise
Eric Burdon and the Animals, Every One of Us (reissue)
Jackyl, ROWYCO
Little River Band, Little River Band (vinyl reissue)
Quicksilver Messenger Service, Live Across America 1967-1977
Aug. 12
Ann Wilson, The Ann Wilson Thing! #2: Focus
Aug. 19
Faith No More, We Care a Lot (reissue)
Meat Loaf, Bat Out of Hell (reissue)
Sex Pistols, Live '76
The Turtles, All the Singles; The Complete Original Album Collection
Aug. 26
Beach Boys, Becoming the Beach Boys: The Complete Hite & Dorinda Morgan Sessions
Joe Cocker, The Album Recordings 1984-2007
Kiss, Rocks Vegas
The Monkees, The Monkees 50
Todd Rundgren, An Evening With Todd Rundgren: Live at the Ridgefield
Sept. 2
Creedence Clearwater Revival, Live in Europe (vinyl reissue)
Freddie Mercury, Messenger of the Gods: The Singles
King Crimson, Radical Action to Unseat the Hold of Monkey Mind
Styx, Live at the Orleans Arena Las Vegas (DVD/Blu-ray)
Sept. 9
Beatles, The Beatles: Live at the Hollywood Bowl (expanded reissue)
Creedence Clearwater Revival, 1969 Archive Box
Faith No More, King For a Day … Fool For a Lifetime; Album of the Year (reissues)
Free, The Vinyl Collection
Journey, Live in Manila (CD reissue)
Justin Hayward [Moody Blues], Live in Concert at the Capitol Theatre
Neil Young, Time Fades Away; On the Beach; Tonight's the Night; Zuma (reissues)
Ramones, Ramones: 40th Anniversary Deluxe Edition
ZZ Top, Greatest Hits Live
Sept. 16
Peter Gabriel, Still Growing Up Live & Unwrapped; Growing Up Live + Still Growing Up Live & Unwrapped (expanded reissues)
Ian Hunter, Fingers Crossed
Led Zeppelin, The Complete BBC Sessions (expanded reissue)
Meat Loaf, Braver Than We Are
Pete Townshend, Face the Face
Phil Rudd, Head Job (U.S. release)
Roger McGuinn, Original Album Classics (5-disc set with Roger McGuinn, Peace on You, Roger McGuinn & Band, Cardiff Rose and Thunderbyrd)
Toto, Live at Montreux 1991 (Blu-ray)
Sept. 23
Bruce Springsteen, Chapter and Verse
David Bowie, Who Can I Be Now? (1974–1976)
Extreme, Pornograffitti Live 25
Fleetwood Mac, Mirage: Expanded Edition
Kansas, The Prelude Implicit
Operation: Mindcrime, Resurrection
Timothy B. Schmit, Leap of Faith
Sept. 30
Bob Weir, Blue Mountain
Emerson Lake and Palmer, Trilogy; Brain Salad Surgery; Welcome Back, My Friends … (reissues)
Eric Clapton, Live in San Diego
Hawkwind, The Charisma Years 1976-1979
Jimi Hendrix, Machine Gun: The Fillmore East First Show 12/31/69
Rolling Stones, Rolling Stones in Mono
Sting, The Studio Collection; Brand New Day; Sacred Love (reissues)
Van Morrison, Keep Me Singing
Oct. 7
Alter Bridge, The Last Hero
The Beach Boys, The Good Vibrations 50th Anniversary Edition (vinyl reissue)
David Lee Roth, Your Filthy Little Mouth (reissue)
Eddie Money, The Complete Hits and More!
Green Day, Revolution Radio
Lou Reed, The RCA & Arista Album Collection (17 discs)
Yes, Acoustic: Guaranteed No Hiss (DVD)
Oct. 14
Creedence Clearwater Revival, Live in Europe (vinyl reissue)
Dr. John, The Musical Mojo of Dr. John: A Celebration of Mac and His Music with Bruce Springsteen, John Fogerty, Warren Haynes and others.
Frank Zappa, Chicago '78; Little Dots; and Meat Light: The Uncle Meat Project/Object
Grateful Dead, Peter Frampton, Widespread Panic, Jorma Kaukonen and others, Dear Jerry: Celebrating the Music of Jerry Garcia
Justin Hayward [Moody Blues], All the Way
King Crimson, Beat; Three of a Perfect Pair (reissues)
Peter Gabriel, Growing Up Live + Still Growing Up Live & Unwrapped (Blu-ray)
Phil Collins, The Singles
Oct. 21
David Bowie, Lazarus Cast Album
David Crosby, Lighthouse
Hanoi Rocks, Strange Boys (five-disc set)
Jonathan Cain [Journey], What God Wants to Hear
King Crimson, On (and Off) The Road 1981-1984
Pantera, The Great Southern Trendkill (20th Anniversary Edition)
Pretenders, Alone
Santana, Live at the House of Blues, Las Vegas
Stick Men [members of King Crimson], Prog Noir
Oct. 28
Iggy Pop, Post Pop Depression Live at The Royal Albert Hall (DVD)
Ringo Starr, Photograph: The Very Best of Ringo Starr
Santana, Lotus (reissue)
Dee Snider, We Are the Ones
Nov. 4
Bon Jovi, This House Is Not For Sale
Graham Bonnet [Rainbow], The Book
Brian Setzer, Rockabilly Riot: Osaka Rocka!
Glenn Hughes, Resonate
Motley Crue, The End: Live in Los Angeles DVD
Stevie Nicks, Bella Donna and The Wild Heart (expanded editions)
Queen, Queen on Air: The Complete BBC Sessions
Chris Robinson Brotherhood, If You Lived Here, You Would Be Home By Now
Rossington [Lynyrd Skynyrd's Gary Rossington], Take It on Faith
Nov. 11
The Band, Last Waltz: 40th Anniversary Edition
Black Sabbath, Paranoid: Super Deluxe Edition
Bob Dylan, The 1966 Live Recordings
Rik Emmett [Triumph], RES9
Pink Floyd, The Early Years 1965-1972
Robbie Robertson, Testimony
Rolling Stones, Havana Moon
Sting, 57th & 9th
Nov. 18
Bastard Sons [Motorhead's Phil Campbell], Bastard Sons
The Beatles, Eight Days a Week: The Touring Years (Deluxe DVD)
Jethro Tull, Stand Up: The Elevated Edition
Bobby Kimball [Toto], We're Not in Kansas Anymore
Randy Meisner, One More Song / Randy Meisner (reissues)
Metallica, Hardwired … To Self-Destruct
Ritchie Blackmore's Rainbow, Memories in Rock: Live in Germany
R.E.M., Out of Time: 25th Anniversary Edition
Sixx: A.M., Prayers for the Blessed Vol. 2
Soundgarden, Badmotorfinger: Deluxe Edition
Nov. 25
Motley Crue, The End: Live in Los Angeles: Limited Edition
Tom Petty and the Heartbreakers, The Complete Studio Albums Volume 2: 1994-2014 (vinyl)
Neil Young, Official Release Series Discs 8.5-12 (vinyl)
Dec. 2
Bob Dylan, The Real Royal Albert Hall 1966 Concert
Enuff Z'Nuff, Clowns Lounge
Gerry Rafferty, The Very Best
Heart, Live at the Royal Albert Hall With the Royal Philharmonic Orchestra (DVD)
Night Ranger, 35 Years and a Night in Chicago
Rolling Stones, Blue and Lonesome
Various artists, T.A.M.I. Show / The Big T.N.T. Show: Collector's Edition (DVD/Blu-ray) [featuring the Rolling Stones, Chuck Berry, the Beach Boys, the Byrds, others]
Dec. 9
The Band, The Last Waltz: 40th Anniversary Collector's Edition
TBA / Rumored:
Adler (untitled, details here)
David Crosby, (untitled second 2016 project, details here)
Hollywood Vampires (untitled, details here)
Joe Perry (untitled, details here)
Paul McCartney (untitled, details here)
Ronnie Montrose, 10 by 10
Ozzy Osbourne (untitled, details here)
Richie Sambora / Orianthi (untitled, details here)
Steve Perry (untitled, details here)
Styx, (untitled, details here)
Tom Petty Wildflowers: All the Rest
Mick Mars / John Corabi (untitled, details here)
Bruce Springsteen (untitled, details here)
U2, Songs of Experience
A Look at 2016's Biggest Rock News Stories
Best of Ultimate Classic Rock